Check Out the Newest Free Printables Items!
If you need tracing lesson sheets for your kids or students, consider getting them our printable kindergarten Christmas letter worksheets. They are great for kids who are in preschool or kindergarten, especially, or for homeschooled children who are around that age. However, you can give them to kids of any age if they need help with improving their handwriting or letter recognition. We have several of these sheets with different letters on them, and each one of these printables features an image that corresponds to the letter. For example, the letter R worksheet features a rocket on it.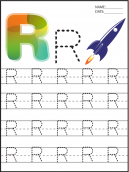 If you would be interested in getting a printable rainbow planner free, we have just the right kind of printables for you. Check out our whole collection of them, ranging from daily to monthly calendars and everything in between. They come in a broad assortment of styles, so you can get printable calendar sheets to match, or you can get a variety of them to mix and match. Use one at a time, or you can put them together to form a full calendar or planner for your convenience.

If you would like to find some great quality free printable boy stencils, look no further than what we carry here at Free Printable Online. These printable stencils are amazing, and come in a variety of animals, from a deer to rhino and much more. They can be used for various purposes, including making fun picture scenes like a farm or jungle scene. We hope that you are able to find some stencils and other printable crafts within our stock. Fortunately, you will not have to pay anything for these wonderful printables.