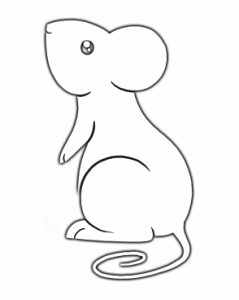 Children and adults alike love to draw, but one problem plaguing many wannabe artists is, "How can I learn to draw?"
While it's true that some people just have an innate talent for it, many, many people learn how to draw through plenty of practice.
The rule of thumb for any skill is that it takes approximately 10,000 hours of working at it to master it.
That sounds intimidating, doesn't it? Don't let those numbers scare you away. Start small.
We have a number of free printable activities here at FreePrintableOnline.com that are designed to help you learn how to bring out your creative side.
Whether you want to learn to draw or are just interested to see how elements in a drawing fit together from basic shapes, you'll find a wealth of valuable information here.
Develop a Steady Hand Using Free Printable Templates
A common problem amongst budding artists is developing a steady hand. Again, it's one of those things that gets better with practice.
When you're first starting out, though, an unsteady hand can make work look shoddy at best.
To learn how to draw good, steady lines, consider following along with some of the drawings in our free printable activities templates category.
From cats, to cherries, to airplanes and people, we have many different images that you can choose from to work on improving your lines.
Want to Learn How to Draw Realistically?
Then the Pencil Drawing Made Easy course is right for you. It is designed to teach even a complete beginner how to draw with pencil. Then you will learn how to draw realistic images, complete with tone and depth.
Learn More Here
Learn the Basics with Free Printable Templates
Another benefit to using template drawings as a base for your own creative work is that it helps you nail down a basic shape for many different objects. If you've never drawn a mouse before, for example, the mouse activities template will let you see how a mouse is shaped, how the lines should flow together and how positioning plays an important role in the perspective and portrayal of an object.
Using Templates to Master Creative Concepts
Once you've steadied your hand and learned the basics of shapes and lines, it's time to work on more advanced concepts like shadows, light and perspective. We have a variety of templates available from very simple to more complex, and there's something for every preference.
Whether you want to draw animals, people or flora, there are many different sheets and activities from which you can draw inspiration.
More Learn To Draw Printable Activities
How to Use Our Free Printable Templates
To begin using our templates, simply choose your favorites and print them out right from your home computer. You can customize the sheets with your name and the date if you like, or you can write them in later.
Place a sheet of sketch paper over the template and trace the image, paying careful attention to the detail in the lines and any shading, if applicable.
The more you trace and draw, the better you're going to be. We have many different pages available, so you can keep practising for a long time.
Remember to check back in with us; we add new sheets regularly!
Some Other Related Template Articles