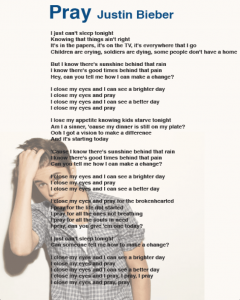 Are you a Belieber? If you don't know what that means, your kids probably do.
Justin Bieber is a young American pop singer known for his vocal style and his appeal to the young teenage girl demographic. He has been wildly popular since his debut in 2009.
In fact, his first album was certified platinum and garnered him seven songs on the Billboard Hot 100 all from the same album. That's pretty impressive for a kid who was only 15 years old at the time.
Though there is a bit of controversy surrounding him, his public antics and his dating life, there's no denying that he's a favorite for preteens everywhere. Here are some of his most popular songs as free printable lyrics.