Are you a Belieber?
If you don't know what that means, your kids probably do.
Justin Bieber is a young American pop singer known for his vocal style and his appeal to the young teenage girl demographic.
He has been wildly popular since his debut in 2009.
In fact, his first album was certified platinum and garnered him seven songs on the Billboard Hot 100 all from the same album.
That's pretty impressive for a kid who was only 15 years old at the time.
Though there is a bit of controversy surrounding him, his public antics, and his dating life, there's no denying that he's a favorite for preteens everywhere.
Here are some of his most popular songs as free printable lyrics.
Pray – by Justin Bieber
"Pray" is one of Bieber's most popular songs. It was released on his 2010 album called My Worlds Acoustic.
This album features acoustic versions of his old songs, but "Pray" was a new song at the time. It is one of his more meaningful, more identifiable songs.
All of us can identify with praying about the bad things we see in the world. We pray for a better future, for "sunshine behind the rain."
Though not a feel-good song, it brings awareness to problems like starving children, soldiers dying, and brokenhearted people.
It's a nice change of pace from his usual peppy pop songs, so check out the Justin Bieber Pray lyrics here.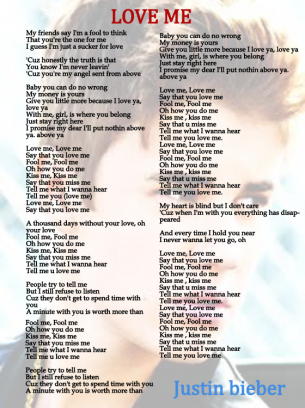 Love Me – by Justin Bieber
Love Me, a song by Justin Bieber is about being in a relationship and being happy. The lyrics talk about being happy and content with what you have. The song is upbeat and has a positive message.
The study found that the majority of participants who listened to Bieber's music felt more positive after listening to it.
They also reported feeling more energetic and motivated. In addition, the study found that Bieber's music can help reduce stress and anxiety.
So if you're feeling down, or just need a pick-me-up, try listening to some Justin Bieber. His music might just be the therapy you need.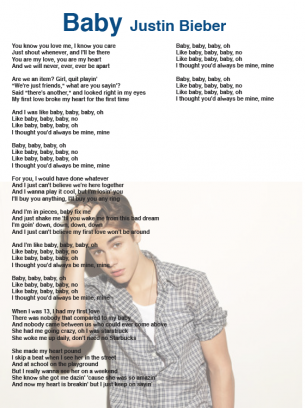 Baby – by Justin Bieber
"Baby" is more Bieber's usual style. It, too, was released as a single in 2010 before his full-length album titled My World 2.0.
Most people can identify with this song about losing a first love. Rather than wallowing in sorrow, though, you may just find that you want to get up and dance to it.
The song features performer Ludicrous and has an incredibly catchy chorus.
Download the Justin Bieber Baby lyrics here and be prepared for the song to be stuck in your head for a few days afterward!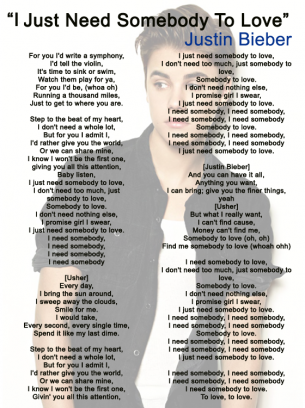 Somebody to Love – by Justin Bieber
"Somebody to Love" was Justin's second single from his full-length album My World 2.0. It was released as a studio version and as a remix.
We have the Somebody to Love lyrics featuring Usher right here, free to print out and use however you'd like.
The lyrics are superimposed over a picture of Bieber, making it a perfect printable gift for the Bieber fan in your life. It, too, is a catchy tune perfect for dancing to.
As usual, all of these printables can be customized, but they're pretty fantastic as they are, too.
Bieber fans will love them because not only are the lyrics, there but so are pictures of Justin as well.
For the budding singer or fan, it makes the perfect gift, especially when framed nicely.
Be sure to use your color print settings so you'll get the best quality for both the picture and the lyrics.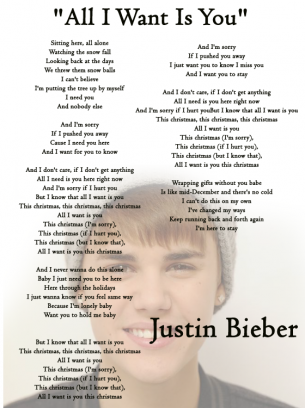 All I Want Is You – by Justin Bieber
The song, "All I want is You" by Justin Bieber is about the importance of love and relationships.
The song reflects on the singer's experiences with past relationships, and how he has come to realize that what he wants most in life is a meaningful connection with someone he loves.
The lyrics of the song are heartfelt and sincere, and they provide a poignant reminder that love is one of the most important things in life.
What's New From Justin Bieber?
It's no secret that Justin Bieber has had his share of ups and downs over the past few years.
But it seems like he may be turning a new leaf. On July 5th, Bieber released a brand new song called "The Popular Song." The upbeat track is a departure from his usual sound, and many fans are loving it.
The song is about, well, being popular. Bieber croons about how he's loved by everyone, from the "cool kids" to the "nerds."
He even gives a shoutout to his millions of social media followers. It's all very tongue-in-cheek, and it's clear that Bieber is having fun with this new sound.
So far, the reaction to "The Popular Song" has been overwhelmingly positive. fans are calling it a "bop" and a "summer anthem." It's clear that Bieber is back and better than ever.
We can't wait to see what he comes up with next.
You Might Also Like