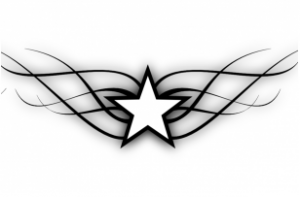 Ladies, are you looking for a design for your next tattoo? Look no further! At FreePrintableOnline.com, you'll find an excellent collection of tattoo designs that will only continue to grow.
Getting inked is a decision that needs to be made carefully.
Most people live with their tattoos for their entire lives, so it's important to choose one that not only reflects your life now, but will be pertinent in the years to come.
In other words, don't get a tattoo that you'll regret! Get one that you'll love and that you've put a lot of thought and consideration into.
To help you make your decision, here are some of our top tattoos for women. Feel free to print them out and take them to your tattoo artist!
Star Tattoos
Stars symbolize many different things. They can stand for knowledge, ambition, goals, beauty, wisdom and more. But more importantly, what does a star mean to you?
Perhaps you'd like to get a star tattoo in honor of a loved one who's always looking down on you. Maybe you want to get one of these star tattoos to remind you to reach for the stars by setting high goals for yourself.
Perhaps there's no deeper meaning except that you really like stars. Either way, go for it! Star designs can make beautiful tattoos, and they're timeless. They'll always be relevant and beautiful, so you don't have to worry about it like you do with trendier tattoo images that may go out of style in a few years.
Don't forget that any of the star tattoos can be customized to your liking using our customization tool. You can add a picture of someone special or text. Do you want your name underneath?
If the star is in honor of someone, consider putting a memorable date inside the star. You can move the text around anywhere you'd like on any of these images to suit your preferences.
Star Tattoos for Women for the Lower Back
Tattoos on the lower back are very popular with women, and we have an attractive choice here with our tribal star tattoo. This tattoo design features wispy tribal markings with a bold star in the center.
It looks great as is, but if you like a bit of color in your tattoos, just have the tattoo artist fill it in with your favorite color. Before you print out the design, decide whether or not you want to customize it first.
You can use our text and image tools to add words and pictures to your design before printing it out.
Now that you have three amazing choices for tattoos, it's time to narrow it down – unless you plan on getting more than one, of course! Ask your family and friends which design they like best, but ultimately, it's up to you.
The tattoo will adorn your body, and you'll be the one looking at it every day. We hope you enjoy the designs. Remember to check back for new designs daily!
Related Tattoo Design Articles