Halloween is a great time to have a party, and invitations are the perfect way to let your guests know about it.
Invitations are also an excellent tool to let your neighbors know their kids can collect candy from you during the celebrations.
We've got your back if you're scouring the web for the best free printable Halloween invitations.
Make your Halloween celebrations stand out by sending these great invites to your party circles, neighbors, relatives, and friends.
Free Printable Halloween Invitations
Halloween is an excellent opportunity for a themed party, so be sure to choose an appropriate invitation that reflects the theme of your party.
If you want to spice things up this Halloween, make your invitation as fun as your actual party preparations.
Take a look at some party invitation templates to make your Halloween spooktacular.
Happy Howl-O-Ween Invitation Card
The Happy Howl-O-Ween card is the perfect party invitation if you want something bright and festive.
This latest addition to the collection gives off a classic spook to Halloween with the dripping appeal of the letters.
You'll know that your night will be unique with the spine-chilling castle with flying bats over it.
There's even a creepy witch showing off her sinister grin. Will there be vampires or wolves? Who knows?
This invitation template has a foldable card design.
While the cover image has blanks where you can write your party details for your guests, its other half is a customizable blank canvass.
You can add text and images through our website or download as-is and do the editing on a third-party application.
Happy Hunting Halloween Invitation Card
Are you ready to hunt for supernatural ghosts? Or does your sweet tooth crave to hunt some candy?
If the answer to either question is yes, this card is right for you.
Indeed, with these three cute pumpkins, children or adults will enjoy receiving this invitation.
This invitation template has the same foldable layout as the Happy Howl-O-Ween Invitation Card.
Cast the Spell Halloween Invitation
Unleash your creative and magical side by casting a spell through this invitation.
If you'd like to throw a party under the moon, this card is the best option.
With a gloomy vibe from the card, your guests will surely stop by and take a visit.
Unlike the first two options, the Cast the Spell Halloween Invitation does not have an RSVP section.
If you need to add guest information without compromising the cover design, you'll need to put it on the blank side.
Customize it, print it out, and send it to your friends and neighbors.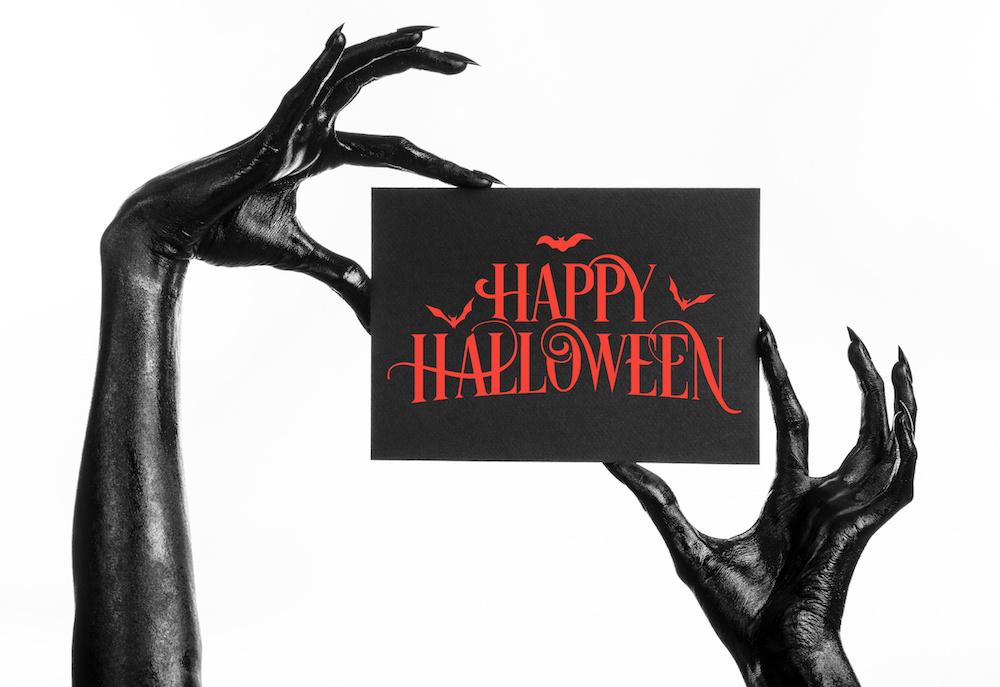 Happy and Scary Halloween Invitation
Halloween is an enchanting and haunting experience that you'll only experience once every year.
Are you planning to go to a forest-themed party? We'd suggest this one to you.
This printable invitation has a spooky tree with an owl surrounded by several graves.
It also includes a witch flying on her broom.
Like the Cast the Spell template, this card does not have a pre-made RSVP section.
Add your creepy magic through the customization options – maybe insert a scary photo to surprise your friends. It's all up to you.
Best Witches Halloween Invitation
Who doesn't love a cute little witch theme for your Halloween party?
Get your broomsticks ready with this fun and hip bright red and black invitation.
Insert a great pun on this card, and you'll surely get the attention of your neighbors, family, and friends.
Since it doesn't have a pre-made RSVP section, custom-fit this invitation to your liking with the built-in editor on the website.
Once you've added your version of witchcraft to this invitation, it's time to start the party!
Halloween Pumpkins Invitation Party
A great Halloween invite is one of those small details that help capture those exciting moments.
This invitation suits you best if you're looking forward to this year's pumpkin carving tradition.
This printable card comes with a cute pumpkin from a pumpkin patch and a welcoming message to your guests.
As easy as it sounds to print out these invites, it's not as easy to be an expert pumpkin carver.
Be sure to take some time to brew up some potent concoction to help you while carving the best-looking pumpkin this year!
Happy Halloween Party Invitation
Halloween is a special occasion where kids and adults enjoy celebrating.
If you're busy creating those treats and knick-knacks, we'll spare you some time to find the right invitations.
This invitation has a simple, cool-looking witch hat above an area where you can put your party details.
It's easy to print out while also being completely free.
Ensure your guests receive this invite so you can get more people to enjoy the best party in the neighborhood.
Halloween Trick-or-Treat Party Invitation
Are you ready to start the trick-or-treat tradition?
If you've spent quite a lot on chocolate bars and candies, there's no need to buy expensive invitation cards from the store. We have the right one for the job.
This trick-or-treat party invitation card has the most downloads and prints on our website.
With its large and eye-catching design, it's no wonder that parents and children send them to peers.
The cards are straightforward to tweak and change so that you can include all the party details.
Don't forget the time, location, and special message for your receiver.
Halloween Party Invitations
With people receiving many invites, it can be a competition to make someone attend your party.
One way to make them take a second glance at your invitation is by sending them a very creative one.
This one will surely turn your heads and give your guests a good laugh with its fun and goofy theme.
Add your custom magic to it through the website's built-in editing feature.
Be sure you'll also create a spooktacular Halloween party to match this awesome invitation.
Halloween Spooktacular Invitations
What makes Halloween special is the amazing memories we create during the celebrations.
Be sure to send invitations to those you want to create those memories with.
As one of our most downloaded Halloween invitations, you'll surely never go wrong with this one.
The giant castle theme embodies the mystery and fun that's bound to happen at your house.
You can add your personal touch by adding your family's picture before sending it out.
Final Thoughts
With plenty of options, you can surely find one Halloween party invite that suits you.
Once you've chosen from the free printable Halloween invitations, you can add a custom photo that you can alter through the photo editing program.
You can even add whatever personal touch you want to the invites.
Whether those are text, elements, or photos, you can do it all on our website.
And the best part?
They're absolutely free, so you have funds to spare for buying more decor or candies.