Get Kids Ready For Reading Worksheet
We all want our children to be better learners, and there is nothing more important than learning to read.
How to improve the reading skills for all learners? This worksheet is the perfect way to get kids ready for reading. The Reading Readiness worksheet.
As the little learners practice their sentences, with the help of the pictures in the worksheet, they will be able to complete the sentences easier. As they write the words and complete the sentence, they get more familiar with the words. Thus helping them to read better.
All students will benefit from this activity. Have your own copy and download it now here.
Read the words in the word box. Read each sentence. Fill in the blank with a word from the word box to complete each sentence.
Reading Readiness Work Sheet Handout
Students are introduced to different words as they are reading. As they read, they will be able to learn new words. This reading worksheet can help students improve their reading abilities.
Reading readiness is all about the little ones readiness to recognize words, therefore, there ability to read the words. This is the transition that takes place within the child from being a non–reader into a wide reader.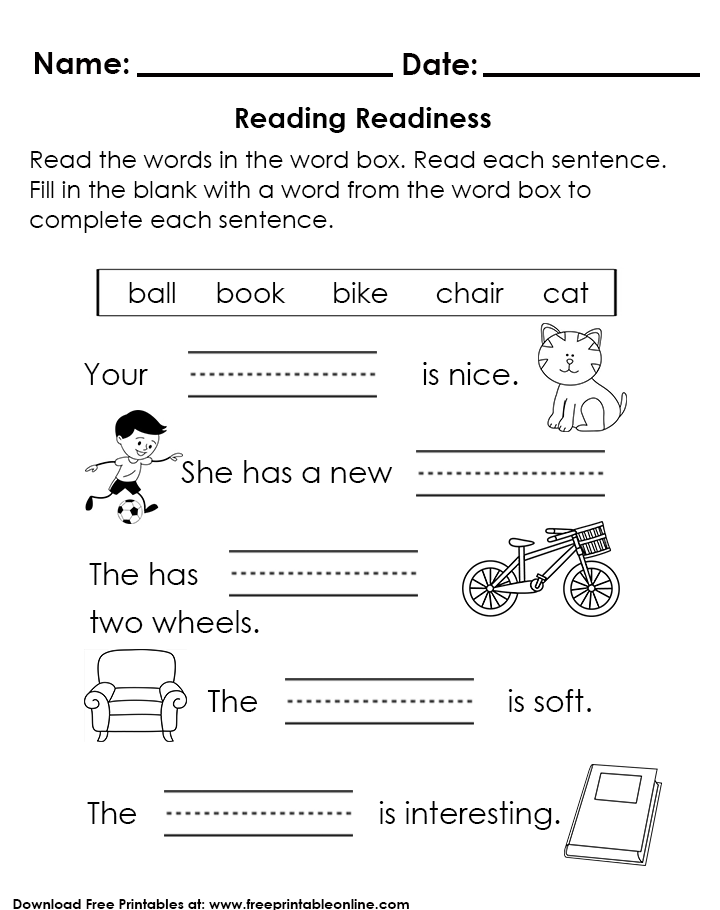 Reading is Important Early On
It is important that reading is a subject all students should participate in. This worksheet can help them to improve their reading skills. They will really enjoy it, and will use it in their daily activities and communication. Reading is good practice at any time, or as often as possible.
English is the subject pupils will learn reading. For the students to understand the English language better, they need to read more.
This reading readiness worksheet will develop their abilities and provide a place where they can learn new words.
Learn Reading With Image Direction
The images on the worksheet helps the learners to fill in the missing name. Not only the picture, but they must choose the right word from within the top box and put it in the right blank within each sentence. Then they must write it themselves on the blank space provided.
It will be good practice for them so that they can have a real meaning of the word. The images serve as a guide for them to choose the correct words.

Reading is a Good Habit
Reading is such a good habit. Giving kids effective reading materials for learning is a great idea. Fun for the kids. Hopefully they will enjoy learning as well.
Reading is a way to discover new interests and find words based on what they are reading. This makes their learning activities exciting and fun.
Giving them different reading materials to work on will add to the learning growth of the pupil.
Download your worksheet right now for your students.