Save Money With Free Printable Baby Shower Invitations
Who said that having a fabulous shower needs to cost a lot? It's simply not true, especially when there are small ways you can save money on the costs of hosting a shower.
Whether you want to save on food, drinks, favors or décor, one place to save will always remain: the invitations.
There is simply no need to go out and buy those boring invitations they have in the stores.
First, everyone has them. Do you really want the invitations for your shower to look like everyone else's? Second, it's hard to personalize them without doing a lot of work.
Fortunately, the free printable invitations at FreePrintableOnline.com make it easy to create unique, personalized baby shower invitations with almost no effort.
In just a few clicks, you can add your own text and pictures to create an invitation that's all your own.

Free Printable Baby Shower Invitations For Your Party Theme
Have you decided on a theme for you baby shower yet? There are so many options today that the choices can be overwhelming.
Instead of trying to choose from a plethora of options, try looking at the free printable baby shower invitations we have and choosing your theme from there? That makes the process much easier.
Based on the invitation, you can incorporate fun elements and colors into your shower's décor to match everything with the invitations.
For example, the Bear and Baby card is perfect for a teddy bear shower for a boy.
There are all sorts of colors to choose from with purple and pink for girls and blue for boys.
There are also green options for those parents who are waiting until the day of the baby's birth to find out whether it's a boy or girl.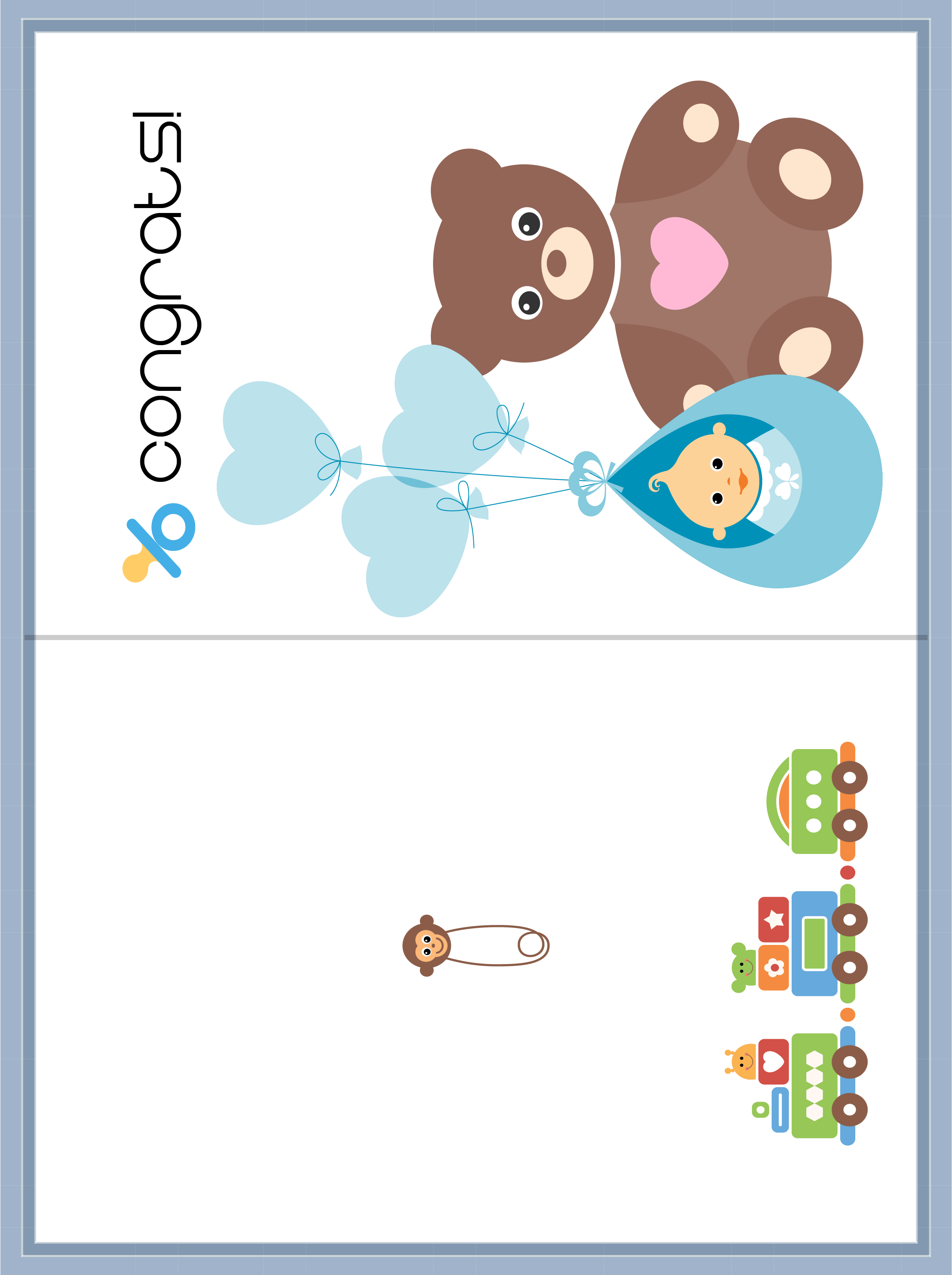 Create A Fun Baby Boy Shower With Free Printable Baby Shower Invitations
So, you're having a boy. Congratulations!
The pregnancy is a special time in the life of the mother and father to be, and choosing a baby shower theme is only part of the fun.
This Teddy Bear and Toys baby shower card is designed with those precious memories in mind. It features a baby carriage with a baby boy, a teddy bear, pacifier, safety pin and train set.
The train is especially adorable and provides an excellent picture to design your baby shower theme around.
The blue, green, orange and red colors work surprisingly well together to create a theme that works well for bubbly, boisterous little boys.
This invitation is fully customizable. You can add your own text to the card or add an ultrasound picture if you'd like.
It's also incredibly easy to add the details to your baby registry or your nursery theme so your guests will have a better idea regarding gifts to buy for the baby.
Share these invitations with your pregnant friends. They may enjoy saving a little money, too!
Celebrate Your Daughter with Our Free Printable Baby Shower Invitations
Parents-to-be, are you expecting a baby girl soon? Congratulations!
A new baby is a wonderfully exciting time in the lives of expecting parents, and baby girls are such a joy.
Soon, you'll have that bundle of joy swaddled in pretty blankets and resting in your arms.
But now, you need to prepare for the baby shower to celebrate her upcoming birth.
With all the new expenses you have as expecting parents, wouldn't it be nice to get something for free?
Now you can! At FreePrintableOnline.com, we want to make it easy for you to save money by using our free printable invitations and products for your paper needs.
Whether you need a family activity, personalized stationery or a special card to celebrate your baby, we have loads of printables to meet your needs.
Bring On Baby! Be Prepared with Free Printable Baby Shower Invitations
With all the costs associated with having a baby shower, using free printable baby shower invitations can save you quite a bit, especially if you expect a large crowd at your shower or if you plan to have multiple showers.
Even if you're not hosting the shower yourself, you can save your hostess some money by using these options.
They're just as pretty and completely customizable, so there's nothing to lose! With just a few clicks, you can have a unique, personalized invitation for your baby.
To print the best looking invitations, we recommend that you print them on medium to heavy card stock.
This will help your invitations hold up better in the mail, and they'll last longer if your friends or family want to keep the invitation as a memento.
Pretty in Pink and Purple: Baby Shower Invitations for Girls
Although you can use gender-neutral colors for baby shower invitations, most people expect that the colors will reflect the baby's gender.
If you haven't already told your friends and family which the baby will be, the baby shower invitation is the perfect opportunity to announce the good news!
This It's a Girl baby shower invitation is beautiful with pink and purple throughout the design.
The wording is simple, and there's even a box for you to customize the invitation with the date, time and location of your party.
Don't forget to include the details for your baby registry, too, in case your guests need gift ideas.
Looking for customization ideas? Scour the web for cute wording for your baby shower invitation.
Consider putting an ultrasound picture at the bottom between the picture of the rocking horse and the safety pin.
If you'd like, you can even cover up the image of the baby in the carriage with a picture from one of your ultrasounds.
There are no limits to the way you can personalize the card, so let your imagination to run wild! Don't forget to save your design first before printing.

Related Articles For Baby Shower Invitations