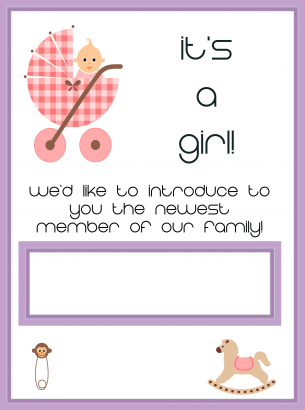 Celebrate Your Daughter with Our Free Printable Baby Shower Invitations
Parents-to-be, are you expecting a baby girl soon? Congratulations! A new baby is a wonderfully exciting time in the lives of expecting parents, and baby girls are such a joy.
Soon, you'll have that bundle of joy swaddled in pretty blankets and resting in your arms.
But now, you need to prepare for the baby shower to celebrate her upcoming birth.
With all the new expenses you have as expecting parents, wouldn't it be nice to get something for free?
Now you can! At FreePrintableOnline.com, we want to make it easy for you to save money by using our free printable invitations and products for your paper needs.
Whether you need a family activity, personalized stationery or a special card to celebrate your baby, we have loads of printables to meet your needs.
Bring On Baby! Be Prepared with Free Printable Baby Shower Invitations
With all the costs associated with having a baby shower, using free printable baby shower invitations can save you quite a bit, especially if you expect a large crowd at your shower or if you plan to have multiple showers.
Even if you're not hosting the shower yourself, you can save your hostess some money by using these options.
They're just as pretty and completely customizable, so there's nothing to lose! With just a few clicks, you can have a unique, personalized invitation for your baby.
To print the best looking invitations, we recommend that you print them on medium to heavy card stock.
This will help your invitations hold up better in the mail, and they'll last longer if your friends or family want to keep the invitation as a memento.
Pretty in Pink and Purple: Baby Shower Invitations for Girls
Although you can use gender-neutral colors for baby shower invitations, most people expect that the colors will reflect the baby's gender.
If you haven't already told your friends and family which the baby will be, the baby shower invitation is the perfect opportunity to announce the good news!
This It's a Girl baby shower invitation is beautiful with pink and purple throughout the design.
The wording is simple, and there's even a box for you to customize the invitation with the date, time and location of your party.
Don't forget to include the details for your baby registry, too, in case your guests need gift ideas.
Looking for customization ideas? Scour the web for cute wording for your baby shower invitation.
Consider putting an ultrasound picture at the bottom between the picture of the rocking horse and the safety pin.
If you'd like, you can even cover up the image of the baby in the carriage with a picture from one of your ultrasounds.
There are no limits to the way you can personalize the card, so let your imagination to run wild! Don't forget to save your design first before printing.
Related Articles about baby showers and invitation