St Pats' Coloring Fun For Kids
Getting your hands on free St Patrick's Day coloring pages is a great way to give children a fun activity to try their hands at.
These coloring pages will impress whether you're a teacher or a parent looking for a fun activity. Also, they're designed for all ages so that you can get in on the fun too!
Free St Patrick's Day Coloring Pages
Let's look at some of the most fabulous coloring pages you can print entirely for free.
They're sure to offer plenty of entertainment and give you the perfect opportunity to celebrate the holiday.
Lucky Pot of Gold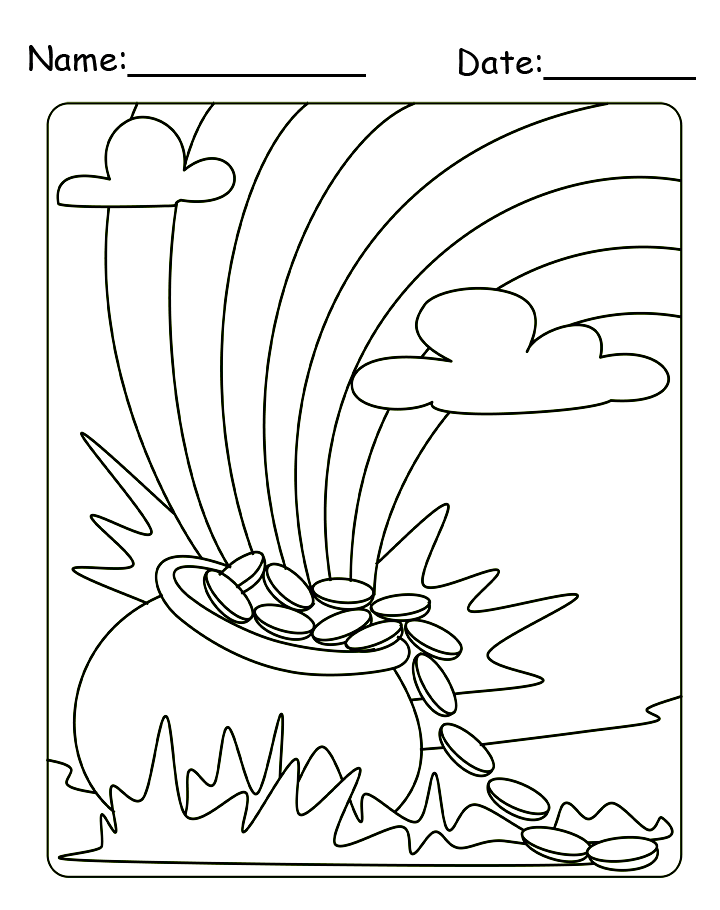 There's no doubt that pots of gold are one of the most iconic symbols of St. Patrick's Day.
According to legends, leprechauns would collect coins in their large pots, given to them by the fairies as payment for their work.
If someone were to happen across a leprechaun and catch them, they could ask for the location of their famous pots of gold.
With this coloring page, children will love the unique details it offers.
There's plenty of room to use an assortment of colors, especially all of the colors of the rainbow.
Also, you'll find other fantastic features like individual coins of gold, clouds in the sky, and the pot itself.
Irish Shamrock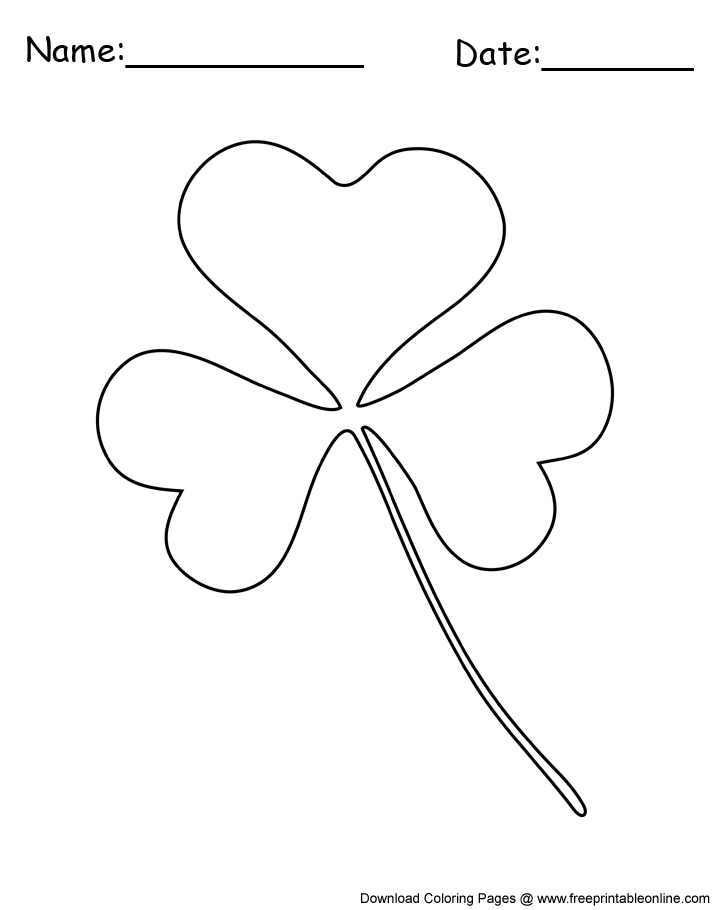 We've all spent hours looking for a famed clover during our childhoods, also known as a shamrock.
With St. Patrick's Day quickly approaching, this easy coloring page will be a fan favorite with kids.
It's also a kid-friendly coloring page with few intricate details, ideal for younger colorers.
The shamrock has a unique history embedded in religion. Thanks to St. Patrick himself, it's often seen as the true symbol of St. Patrick's Day.
As a Christian missionary, he would use the shamrock to explain the Holy Trinity of Christianity (God the Father, God the Son, and God the Holy Spirit).
St Patrick's Irish Frog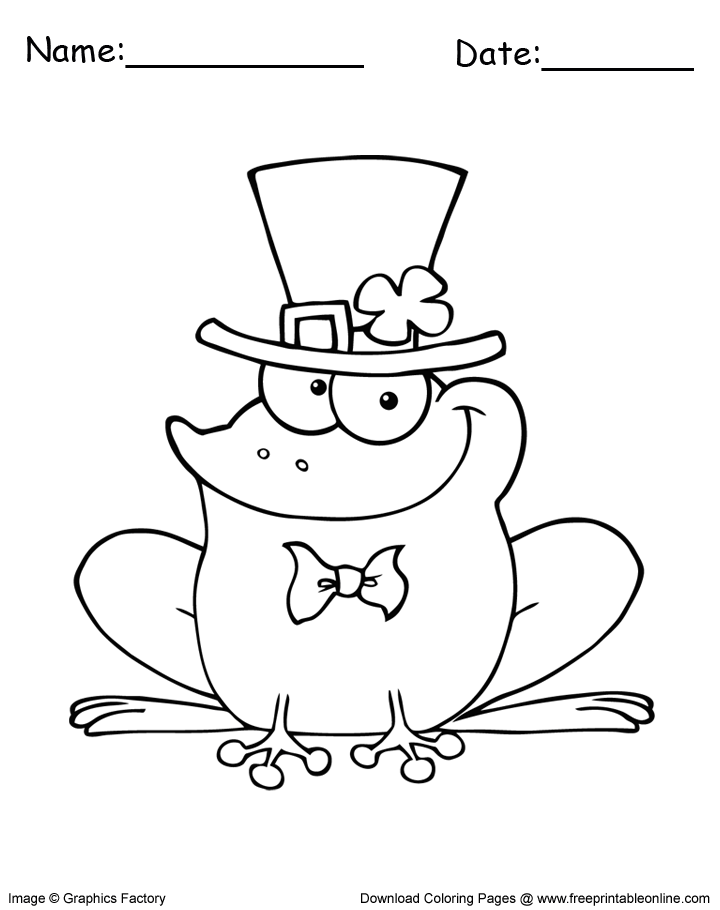 If you're looking for a coloring page that will grip the attention of your kids or students, this page is ideal.
The St. Patrick's Irish Frog is a fun and cuddly character that opens many creative opportunities.
It's a creative coloring page with a few cute details, such as a flower on his top hat and a bowtie.
Unlike the other pages on this list, there isn't a specific history that connects St. Patrick's Day and frogs.
However, frogs on their own have a unique symbolism of peace and environmental awareness.
It's a great way to open the discussion of wildlife's importance, even outside of the holiday.
Irish Clover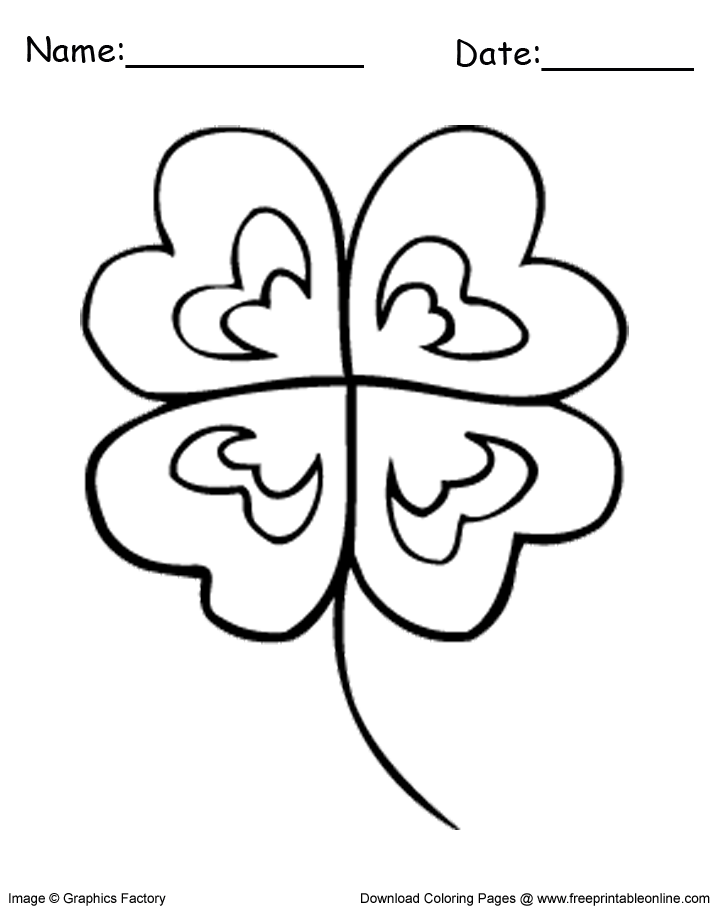 If you're looking for a coloring page that's a little more advanced than the Irish Shamrock we discussed above, the Irish Clover is remarkable.
It's designed similarly to a four-leaf clover, an image often associated with St. Patrick's Day.
It has a couple of unique details in each petal, making it an excellent option for more advanced colorers and creative minds.
As we all know, the largest symbolism of an Irish clover is luck. However, it also resembles faith, love, and hope, relating to the old phrase, "Luck of the Irish."
If you want a great coloring page that kids will love and that works with your St. Patrick's Day theme, this is one of our top choices.
Kiss Me I Am Irish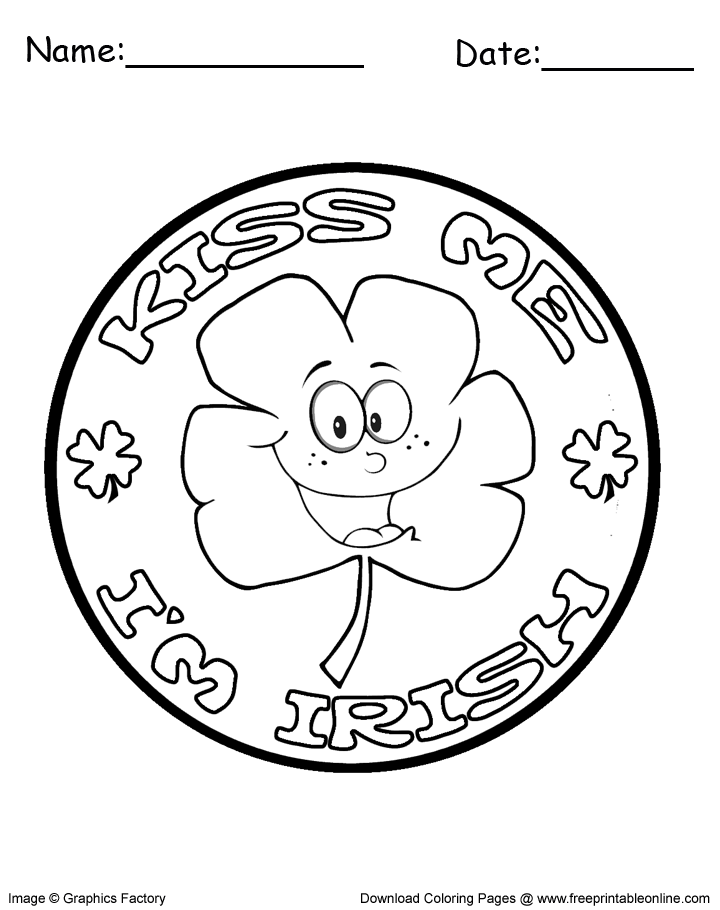 When heading out on the town for St. Patrick's Day, it's more than likely you'll see people wearing "Kiss Me, I'm Irish" slogans on their clothing.
With kids in the classroom or at home, you'll find this coloring page is an excellent alternative for a holiday.
It's one of the best ways for Irish descendants to show their pride in their heritage.
This coloring page has a few great details that are sure to keep kids entertained.
Kids can customize each of the bubble letters to a different color, and it boasts an overjoyed shamrock in the center of the picture.
There are plenty of coloring opportunities your kids will love having with this coloring page.
Leaping Leprechaun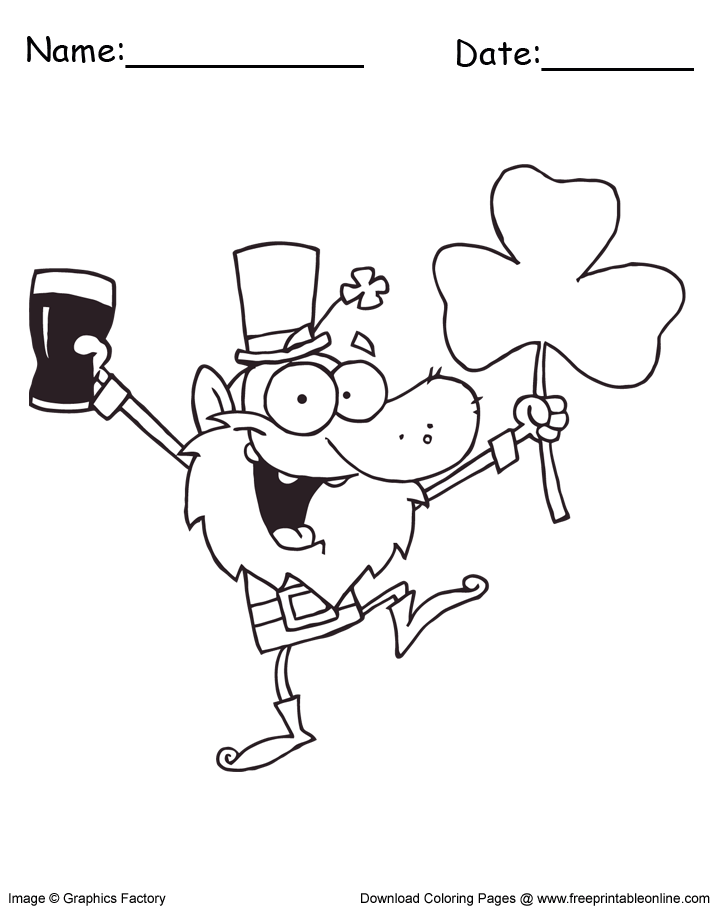 Along with shamrocks and four-leaf clovers, leprechauns are a classic St. Patrick's Day symbol.
Also known as "Lobaircin" in Irish folklore, these small-bodied fellows are known for their magical powers.
Interestingly, leprechauns aren't always fun and friendly; they can also be dark and evil, depending on what they use their magic for.
The Leaping Leprechaun coloring page has a unique design with friendly characters kids will love.
It's pretty resemblant to something you'd see on a kid's TV show, making it ideal for colorers of all ages.
Plus, kids will love learning more about Irish folklore as they work on their projects.
Children can truly use their imaginations with easy-to-follow lines and plenty of details.
This cheeky character is bound to help them practice drawing within the lines.
Clover Leaf With Hat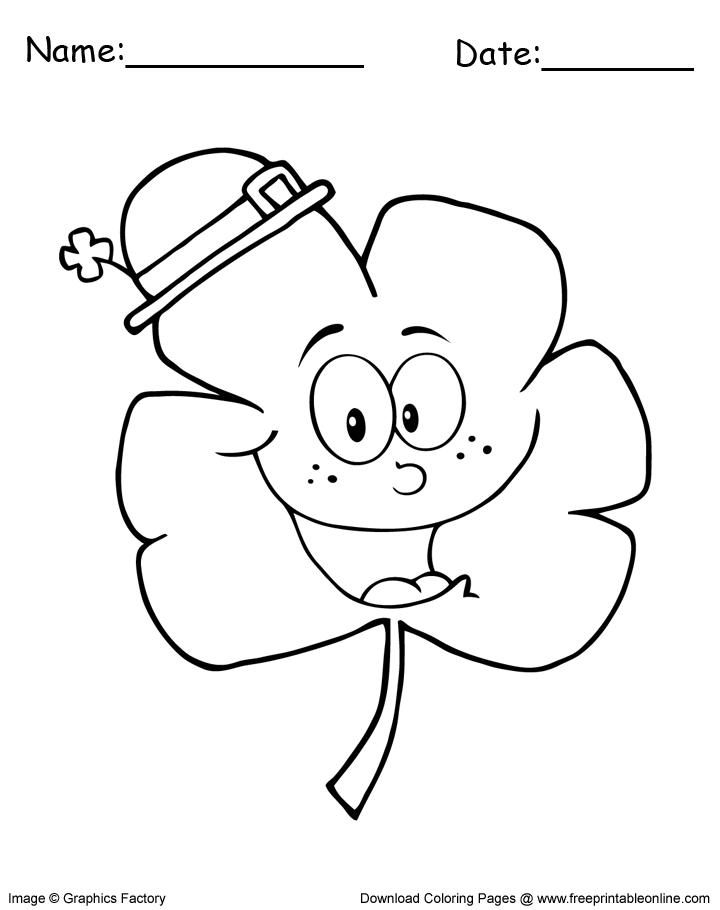 There's no doubt kids love coloring pages that they can relate to, especially if they feature cute little characters.
The Clover Leaf With Hat coloring page is one of our favorites, with plenty of personalities.
Instead of a standard clover, this page has a glistening smile and joyous features.
One of the best features of the coloring page is its adorable hat perched on one of the clover's petals.
It's a fantastic coloring page to truly help your kids get into the spirit of St. Patrick's Day.
Also, it has enough difficulty to where it's great for all ages, and children can practice staying within the lines and shading.
Clover Leaf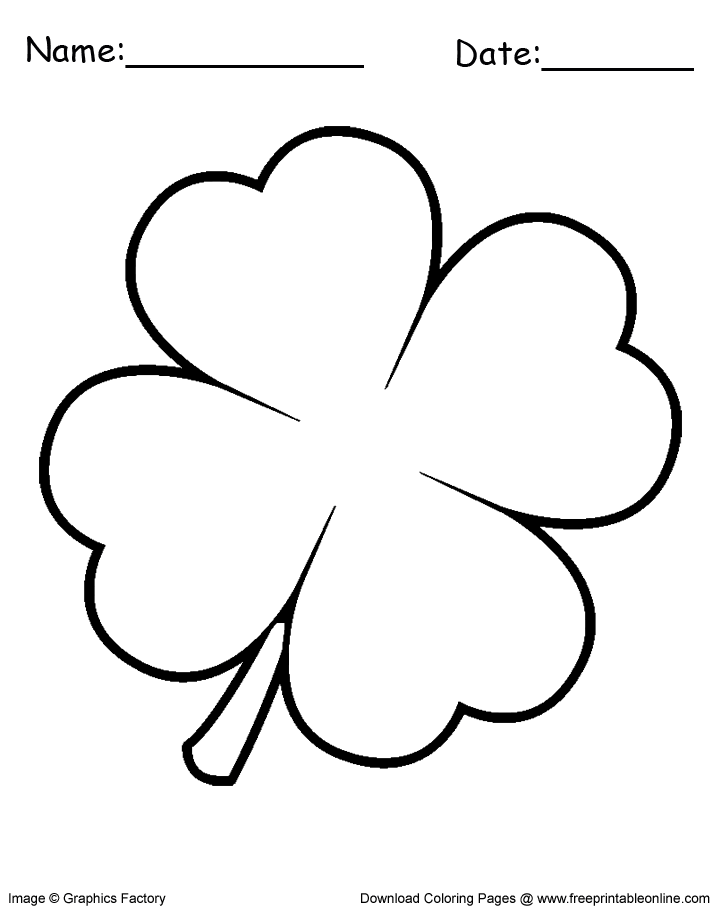 As the final coloring page we highly recommend for the holiday, we have a simple four-leaf clover.
The design is rather basic, making it an excellent option for arts and crafts.
Instead of just coloring, you can have your kids work with other mediums, such as paint, glitter glue, or crayons.
It's a large-sized clover, which opens the door for plenty of creative opportunities.
You'll also find it's a fantastic option for young kids, as there aren't any tiny details to worry about.
You can truly transform this ordinary clover into something unique with endless customization options.
Final Thoughts
When searching for free St Patrick's Day coloring pages, there are plenty of options to consider.
These eight fantastic pages are sure to offer hours of entertainment for kids of all ages.
Also, they're entirely free, making them perfect for teachers looking for a holiday-themed activity within their budget.
There are loads of fun St.Patrick's Day play toys, games and novelties available at Amazon.