Free Printable and Wearable Name Tags
If you're organizing an event, one of the first things that you need to do is decide on name-tags or name badges for the event participants.
Sure, most people complain about them, but they're necessary if you want everyone to be able to work together without all sorts of awkward interactions.
We have plenty of name tag options for your meeting, conference or workshop in our free miscellaneous printables section here at FreePrintableOnline.com.
Free Printable Name Tags
Are you looking for some benefits of name-tags to convince the other coordinators? We've got you covered!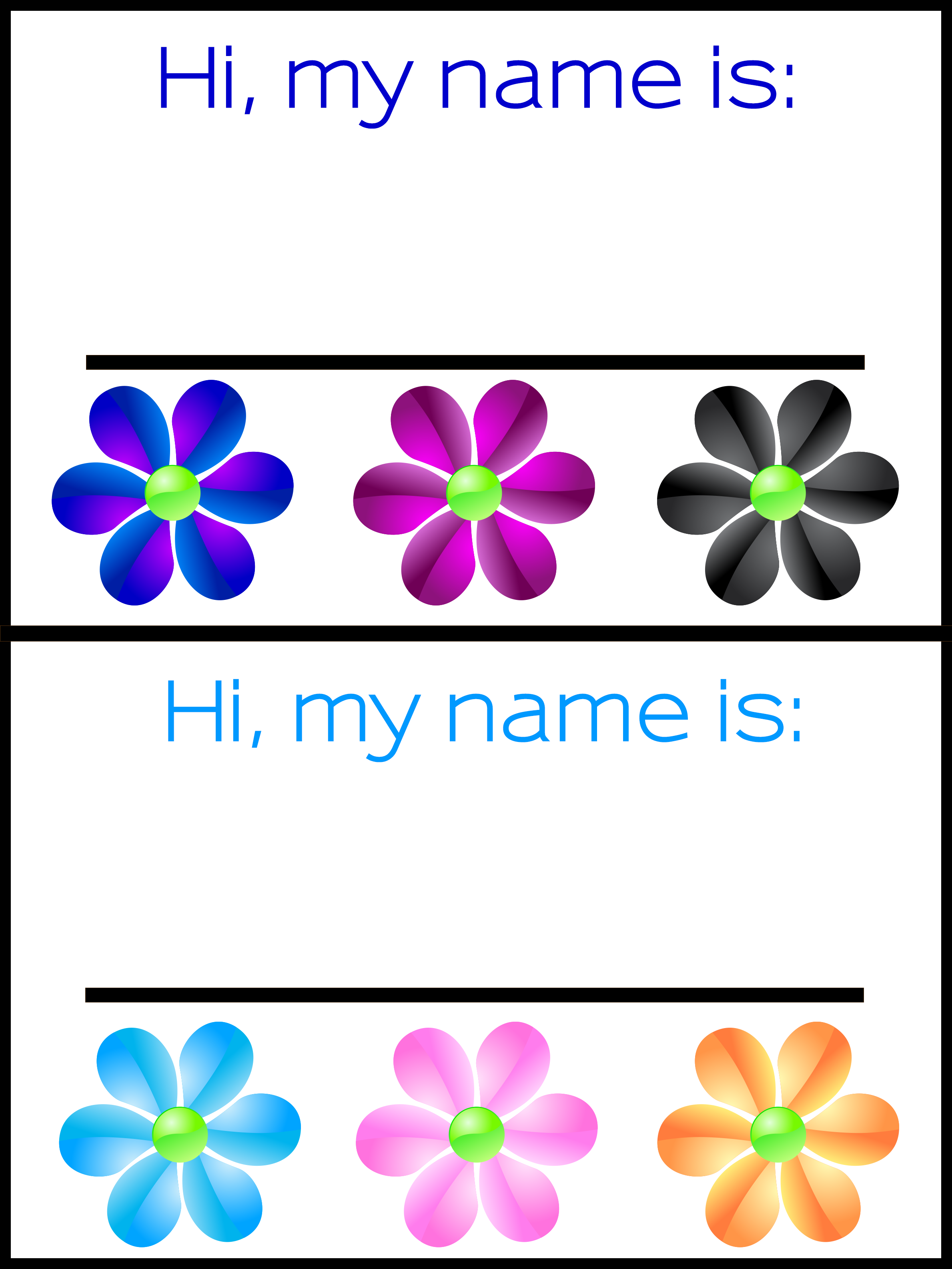 Printable Name Tags for Children
Creating fun things for pre-school, kindergarten or even your own children to do can be so exciting for them.
Creating name tags for the children is a great activity. It can help them get antiquated when they are just starting school.
We have loads of templates you can use to make name badges for you students.
More: Free Printable Name Badges
Name Labels for Meetings
Have you ever been in a meeting and been embarrassed to admit that you don't know someone's name?
It happens all too often because we're bombarded with information every day.
Some of us are also just really terrible at matching names and faces. If either of these situations apply to you, our free printable name tags can provide some welcome relief.
At your next meeting or conference, suggest to the coordinator that everyone wears name labels for easy identification.
Although a few people may grumble, it truly does make it easy for everyone to address other people properly.
If the event lasts several days, it can also go a long way toward helping the event participants to learn each others' names.
These name labels are also great for using in the classroom during the first couple of weeks of school.
Blank Name Tags

If the name-tags are laminated, they'll last for quite some time and can be pinned onto clothing or worn around the neck.
You can also print them out on sticker paper, though this may not be the most practical option if you need to reuse them.
Benefits of Wearing Name Badges
There are a great number of benefits to wearing name labels, but here are just a few that come to mind immediately.
They promote communication. People are no longer afraid of calling others by the wrong name, so they're more willing to engage in conversation.
They promote friendliness. When you know someone's name, you are more apt to be friendly with that person because they know your name, too. That's not to say there will never be rude participants, but the odds are reduced when everyone's name is widely known.
They cut down on the learning curve when it comes to learning the names of strangers. You don't want to have to keep asking, "What's your name again?" as that's rude and can convey a careless attitude at your event.
In a normal business environment, name labels make it easy for customers to identify authoritative persons who represent the business. This can cut down on time it takes to find help, thus improving customer satisfaction.
They also promote communication between an organization's employees. For instance, if you're told to go find Jane in accounting, you'll know exactly who she is if she has a name badge with her name and title clearly visible.
We hope you enjoy our selection of name labels!
Related Posts