Get Acquainted with Free Printable Name Badges
Have you ever been to a business function or a party and forgotten the name of someone that you should have known?
It happens to the best of us, but it can be incredibly embarrassing, especially in a professional setting.
The unfortunate thing is that this type of situation can be avoided with the proper planning. How? Free printable name badges are a good place to start.
When people wear name badges, they're easily identifiable. There's no guessing or wondering at their name.
There's no head-scratching bewilderment as the person asks you about your daughter and your summer vacation plans while you stand there wondering who the heck she is.
If your organization shuns name badges, ask them to reconsider. People can communicate much better with one another when they're assured that they can get the other person's name right while they're collaborating on work projects together.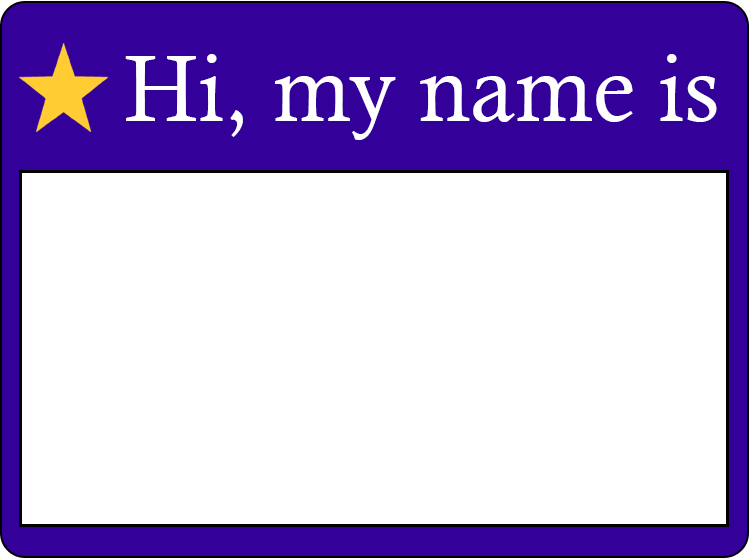 Colorful Free Printable Name Badges
If you've only seen those boring, plain, white name badges before, you're in for a treat!
We don't believe in boring here at FreePrintableOnline.com.
We think that with a bit of color and creativity, even the most mundane things in life (like name badges) can be exciting and fun.
We think we've accomplished that here with our free printable flower name badges.
As you can see, each name badge will have three colorful flowers under "Hi, my name is ____."
There are two different color combinations, so if you plan on using these at a business function, consider having management wear one color set while the other employees wear the other option.
These are also great for church mixers, workshops, short-term classes and many other types of functions and events.
The name tags can be personalized before printing using the customization tool.
This is ideal if you'd like to pair a name with a face before handing out the tags.
You can request that attendees send in their pictures ahead of time, and you can use the customization tool to put each person's picture on the badge beside their name.

How To Make Name Badges
Making free printable name badges is a simple process that can be completed in a few minutes with a computer and printer.
First, open a word processing program and create a document. Then, type each person's name on a separate line.
Next, adjust the font size and style to create a professional look. Finally, print the document and cut out the name badges.

Tips for Printing the Free Printable Name Badges
Do you want some pointers on printing these badges to get the most out of your efforts? We're happy to help.
First of all, our printables are designed in color to be appealing to the eye. We understand, however, that some organizations limit the use of color ink.
It's easy to make black and white copies of these name tags right from the printer. When you click the "print" button from the customization page, a window for your printer will pop up.
In the printer's properties, change the color settings to "black and white" or "grayscale".
Either of these options will give you black and white documents and images. If you'd like to print more than two to a page, save the file to your computer first.
Then, from the image printing menu, select the option for multiple pages per sheet.
This will allow you to print up to four of these name tags on each sheet, saving paper.
How To Use Free Printable Name Badges
There are many different ways that you can use free printable name badges.
You can use them as identification badges for your staff, as name tags for events, or as labels for your belongings.
One way to use free printable name badges is to create identification badges for your staff.
This will help your staff to easily identify each other, and it will also help to deter theft.
You can also use name tags for events. This will help guests to easily identify each other, and it will also help to ensure that everyone knows the schedule of events.
Finally, you can use labels for your belongings. This will help you to keep track of your belongings, and it will also help to prevent theft.
Related Posts