Learn To Count Worksheets
If you are searching for fun and practical worksheets for kids, particularly around the kindergarten to preschool age, this list is certainly one to take note of.
We searched through our database and handpicked some fun and educational worksheets that teach children to count by using objects they recognize.
Best of all, each of them is customizable, allowing you to make them and change the images any way you like.
That said, here is an overview of each sheet.
---
Let's Count It Together
This is a fun sheet that can help your kids learn to count with ease. Particularly, it helps them learn how to count from numbers 1-10.
This worksheet includes objects that kids love, such as apples, bears, pizza, pencils, cupcakes, and more.
Best of all, it will help your tiny tikes develop a better understanding of numbers and math.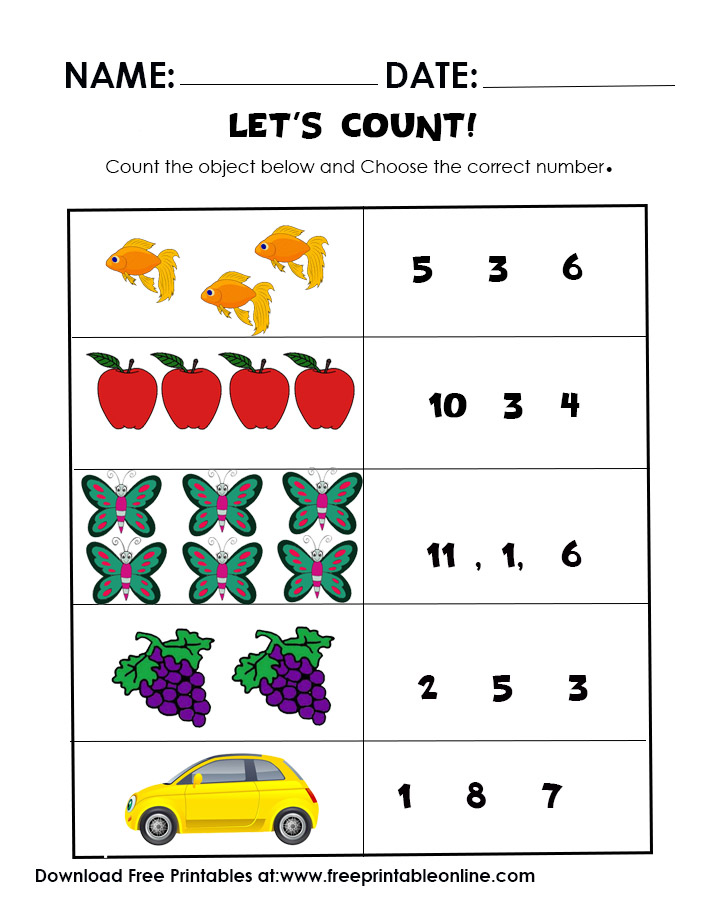 ---
Free Basic Addition With Counting Worksheet
Given that many young kids struggle with learning math, this printable sheet is a great option.
Using easily recognizable shapes, dice, this worksheet is a great way to get your kids more interested and engaged in math. They allow kids to count each die and add them up at the end.
This is a great way to teach children math that can be easily translated to the real world.
---
Counting and Coloring Fun Sheet
One thing most young kids love to do is color. This great printable sheet provides the best of both worlds.
Allowing them to color while they also build their counting skills, this worksheet uses cute little chicks and encourages kids to color the chicks that have the number 3 on them, while leaving the rest blank.
This is a great worksheet for any child who is learning their numbers and enjoys coloring cute little chicks.
---
Free Math Counting Numbers Handout
A fun worksheet that helps young kids develop their counting and math skills, this is a fun printable math and counting sheet.
Using fun fruit shapes, this worksheet encourages kids to count from 1 to 10 by the row.
This is a fun and easy worksheet that is great for kids who are still learning to be better counters.
---
Printable Counting Objects Worksheet
If you are interested in enhancing your child's counting abilities, this printable worksheet is an excellent choice.
Using a variety of recognizable kitchen utensils such as plates, cups, and cutlery, this printable worksheet allows kids to brush up on their counting skills using everyday objects they are already comfortable with.
This sheet allows them to count 6 different groups of objects, each of which are grouped in varied numbers under 10.
An excellent worksheet for kids who love to eat and count, which is most of them!
---
Advance With Skip Counting
Skip Counting Math Worksheet For Kids
Yet another great printable worksheet for children that enjoy counting fruit, this worksheet is fun for young kids who are trying to strengthen their counting skills with a side of yumminess.
For kids that are a tad bit advanced, this worksheet encourages kids to count by 2's. By simply filling in the missing numbers from 2-100, this is a great teaching tool for kids who are ready to take their counting to the next level.
---
Skip Counting 2-4 Worksheet
Another printable worksheet for kids who are a tad more advanced, this worksheet encourages kids to skip count by 2's, 3's, and 4's.
Using cute little frog shapes, the sheet requires each kid to count by the specified amounts, in order to further their counting abilities.
If you are seeking fun, free learn to count worksheets that are engaging and challenging, this list should give you everything you need.
Great for those who are in preschool and kindergarten, these sheets are sure to keep kids entertained, engaged, and will surely help them further their math and counting capacities.
Conclusion
Counting is one of the most important skills children must learn early on in life. It is a basic skill used in many different practices. Essential for early learning and development as it lays a mathematical foundation for developing further math skills.