Free Printable Flashcards
Many of those who grew up before the internet learned the basics through the use of flashcards.
These are two-sided cards where one side shows the question while the flip side has the answer.
Constant practice with flashcards makes it easier to memorize and understand the lesson.
In the past, making flashcards was more physically demanding and time-consuming than today. You had to do it manually using cards, highlighters, markers, and pens.
Fortunately, learning how to make printable flashcards on a Mac or any other computer system is now easy.
Thanks to technology, there are various flashcard apps you can use to create this learning tool in an instant.
The Benefits of Using Flashcards
Back in the day, pen and paper are part of a student's everyday life when answering worksheets, writing essays, or during a study session. Because of modern innovations, studying became easier using different study apps.
There's no need to scribble notes while studying if you have app-based flashcards. These learning tools make connecting to links, articles, and other resources related to the subject more convenient.
Overall, learning via flashcards is still an excellent way of practicing your brain. What's more, you'll find that digital flashcards are much better than regular flashcards.
The basic flashcard may provide you with the correct answer on the other side, but an app-based flashcard can direct you to a link, picture, or video.
The Best Flashcard Apps for Mac
We all know what a basic flashcard template looks like. There's a question on one side, and the answer is written on the other side.
Today, there are online flashcard platforms you can use for flashcard creation.
Wokabulary
Although you can still use traditional flashcards, you can try the Wokabulary app available on both Mac and iPhone. As the name suggests, it's the app you use if you want to learn a new language.
The Wokabulary app supports more than 100 languages, allowing you to create different sets of flashcards. You can make a variety of flashcard templates for speech patterns or specific subjects and change the level of difficulty as you progress.
You will also find quizzes and statistics inside the Wokabulary app to help and support you on your learning journey. Here's how you can make flashcards using the Wokabulary app:
Step 1: Open the app on your Mac.
Step 2: Choose the language you want to learn and the one you are most fluent in.
Step 3: Click on "Add Word" at the bottom of the app.
Step 4: Type in the word in the foreign language.
Step 5: Type in the same word in your native language.
Step 6: Add tags or comments if you want.
Studies
Studies is another excellent Mac app for flashcard creation. It lets you add an audio file, image, or video. The Studies app will let you get your entire flashcard stack if you have Mental Case for iOS or Mac. As backed by many flashcard web sites, it allows you to export and import CSV and TSV.
Here's how to make flashcards using Studies:
Step 1: Open the Studies app on your Mac.
Step 2: Choose "New Stack" to create a new flashcard section.
Step 3: Select "New Note."
Step 4: Put your question on the right side. You can even add a video or an image.
Step 5: Tap and provide the correct answer on the card on the right side.
Anki

Anki offers the biggest flashcard library for free if you are a Mac user. It also comes with plenty of customization for any field of study.
It functions as a minimalist-inspired study app where all your flashcards appear together with your daily progress summary. You can go straight to acquiring, creating, and reviewing different cards from the launch page.
As you select your answer according to your knowledge level, Anki automates the review method easily. From its seven data points provision, you can identify areas for improvement. Also, you can export the data as a PDF file for easy recording.
AnkiApp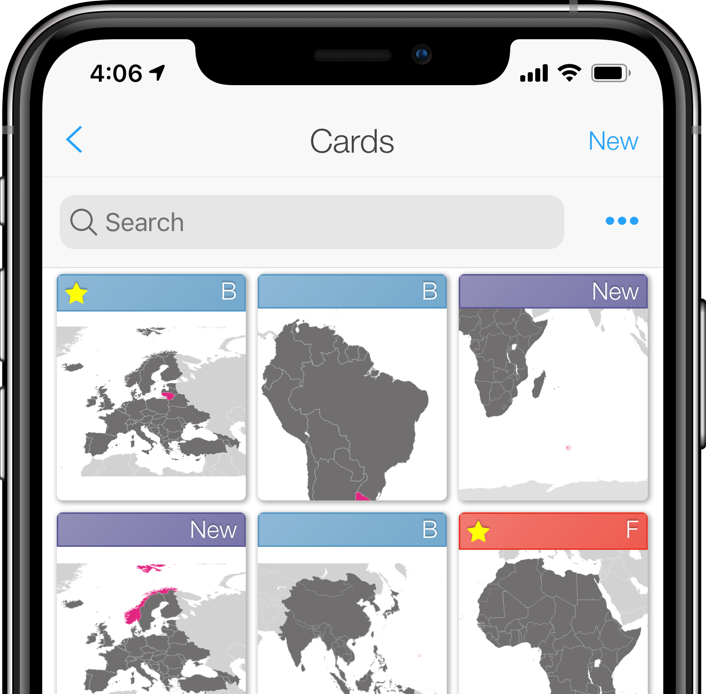 Although AnkiApp is not associated with Anki, they have similarities. After several design alterations, the former became a visually-friendly flashcard app with a quick, compact view. The dashboard displays your recent numbers and efforts through a bar graph.
When writing flashcards, AnkiApp has some limitations. You can do more than just create a basic flashcard with a small amount of media added. Instead, it can accommodate larger text and clear graphics for readability.
Word
Making flashcards using Word is straightforward, as it creates a single file that accepts images and videos. When saving the file to your Mac, follow the instructions when creating a new card.
Here's what you need to do to create flashcards in Word:
Step 1: On your Mac PC, open the Word program.
Step 2: Select Page Layout.
Step 3: Go to the Size tab and choose your preferred size for your flashcard.
Step 4: Type in the question on the page and edit the font style and text size to your preference.
Step 5: Position the cursor at the end of the sentence and press Control + Enter on your Mac keyboard.
Step 6: A new card will appear where you can write the correct answer to the question you just typed in.
Flashcard Hero Lite
Flashcard Hero Lite has a different app design inspired by PowerPoint. After the Initial Project screen, the flashcard app breaks down into Progress, Studying, and Writing.
The materials imported from Flashcard Hero Lite and used by previous flashcard files or Quizlet function smoothly.
The Progress section has four categories: Alphabetically, Difficulty, Last Studied, and Spaced Repetition. You can easily interchange all four options as needed for quick studying.
While on the Studying option, you can test yourself by using a cover sheet, answering multiple-choice questions, filling in the answer, or flipping to show the solution.
The Writing portion has a straightforward editing interface without image insertion allowed. It follows a simple question-and-answer template except for the multiple-choice addition.
How To Make Printable Flashcards on a Mac?
Flashcards are excellent tools when you need to study. As such, knowing how to make printable flashcards on Mac and other devices can be very helpful.
Some apps for creating flashcards are free, while paid ones offer a trial period. If you need more materials, you will find amazing flashcard additions online.