Do you have a second-grader who is still building his or her language skills? If so, you should include printable 2nd grade vocabulary worksheets in your lesson plan.
A 2nd grade worksheet can help a lot in teaching kids new words.
You can also use these fun writing tools to improve their alphabetizing skills, dictionary skills, 2nd-grade grammar skills, and reading skills.
This helpful vocabulary worksheet is just as effective as pre-made digital activities and virtual manipulatives.
In addition, writing by hand helps enhance memory and stimulates other learning skills.
Before we discuss our favorite fun activity sheets, let us first talk about why language art skills are important to a child.
Why Is Vocabulary Important for Kids?
We have plenty of worksheets students of all ages can work on, including math vocabulary worksheet activities and math vocabulary terms.
We also have many colorful activity sheets.
That said, among our interactive resources, we are most excited about our 1st-4th/5th-grade vocabulary worksheets.
Academic vocabulary is the cornerstone of effective communication skills. It can help improve listening, speaking, reading, and writing.
If a child has a solid foundation in terms of academic vocabulary, they are more likely to succeed in school.
Even better, knowing a lot of words allows them to access an unlimited amount of information.
In short, with a good vocabulary, it will be easier for them to learn about the world around them.
2nd Grade Vocabulary Worksheets
As mentioned, we have a lot of printable vocabulary resources for you to download and print.
You can use them to teach a number of skills, including academic vocabulary terms and themed vocabulary.
We do not have any vocabulary picture cards or synonym-matching flashcards for second-graders.
Nevertheless, we have a lot of other 2nd grade vocabulary activities for your kids. These vocabulary activities come in different forms, from synonym matching to quizzes.
Here's a closer look at some of our favorites.
Vocabulary Words Primary Worksheet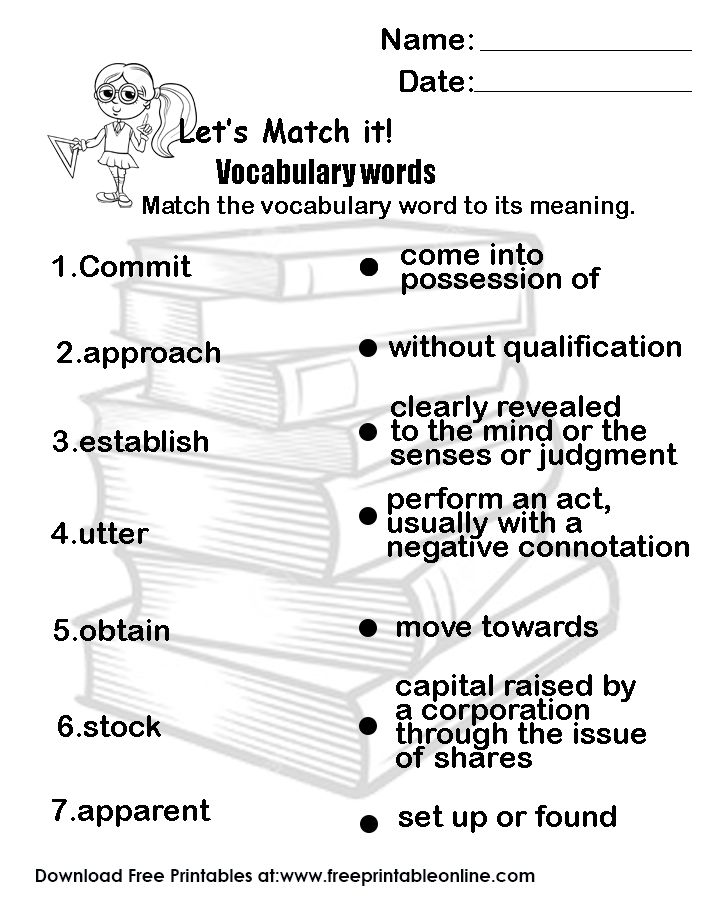 In the second grade, kids will start to learn about the meanings of more advanced words.
These are words that will allow them to understand more complex topics in preparation for moving up to higher grades.
The best way for them to learn these new words is with heavy vocabulary repetition.
The more they see these words, the more familiar they will be with the meaning of each one.
That's why our Vocabulary Words Primary Worksheet activities are amazing teaching tools.
Simply print it anytime you need it, and proceed with your mini lessons.
You can even print it as many times as you need to at no additional cost. It is totally free, so you do not have to worry about your budget.
You could also customize these fun activity sheets to keep things exciting for your kids.
School Bus Word Game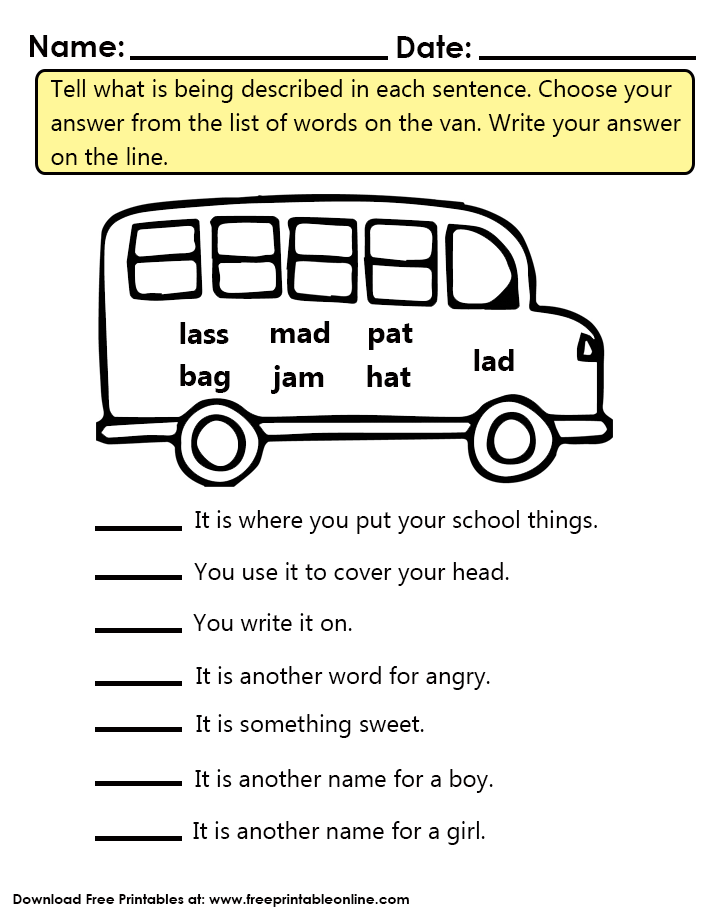 Kids spend a lot of time inside a school bus, and it is here that they form bonds and friendships.
There is no doubt that the yellow bus plays a big role in the life of a second-grader. Therefore, it makes sense to integrate it into your lesson templates to spark their interest.
That's exactly what we did with the School Bus Word Game.
In these worksheets, kids need to match the word to the right description.
The words are written on a drawing of a school bus, and the definitions are right below it. Children can write their answers in the space before all sentence-level context clues.
What makes this worksheet effective is that it uses words and topics that kids can relate to.
Hopefully, these real-life connections vocabulary worksheets will help kids appreciate the world around them.
Complete the Missing Letters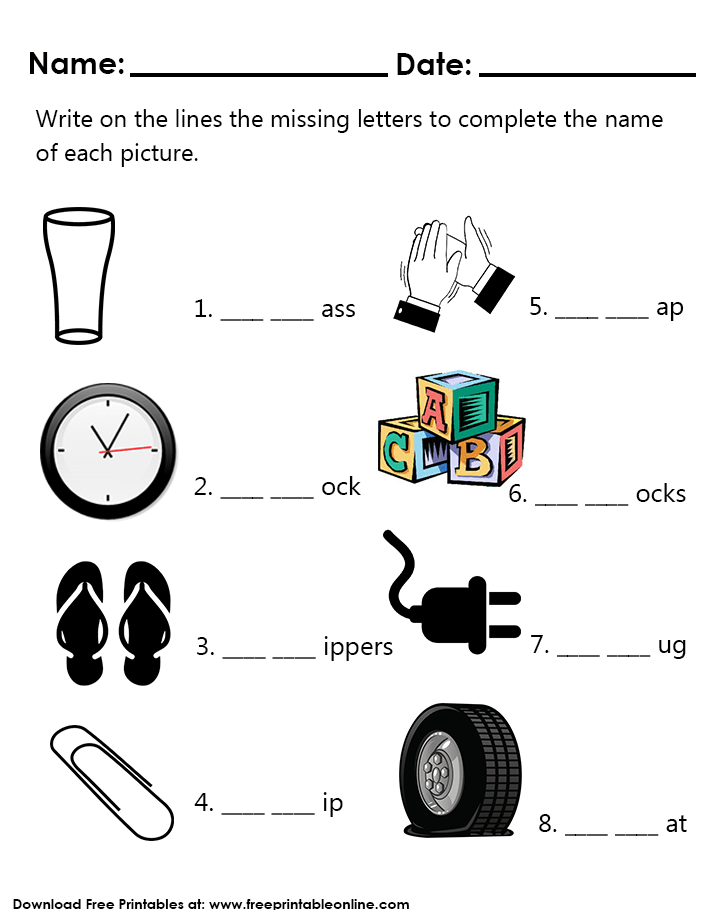 When it comes to teaching kids, it is not enough to have a solid lesson plan. You should also find ways to make each session fun and exciting.
Our Complete the Missing Letters worksheet offers a great way for you to teach vocabulary and keep your kids engaged.
Here, the student can try guessing different words based on drawings. Only some of the letters are given, while the others are left blank.
You can make a game of it by declaring whoever finishes first the winner. If you want, you can even give out simple rewards or tokens to recognize their efforts.
With these worksheets, kids can learn new words and enjoy themselves at the same time.
Find the Adjectives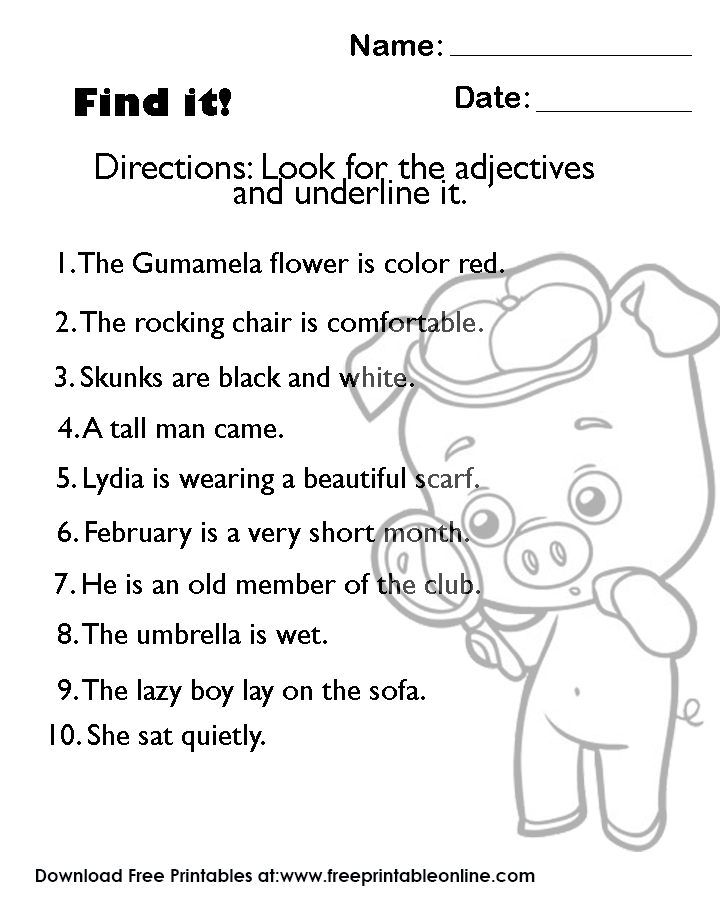 In the second grade, kids can start putting together sentences and writing simple essays. These compositions are quite complex and have a beginning, middle, and end.
However, before the students can construct a sentence, they must be familiar with its parts.
This worksheet will help them brush up on adjectives.
It contains several sentences, and the students are supposed to find and underline the adjectives.
Use it to teach your students about the different types of adjectives, including opinion, location, and quantity adjectives.
Pronoun and Proper Noun Worksheets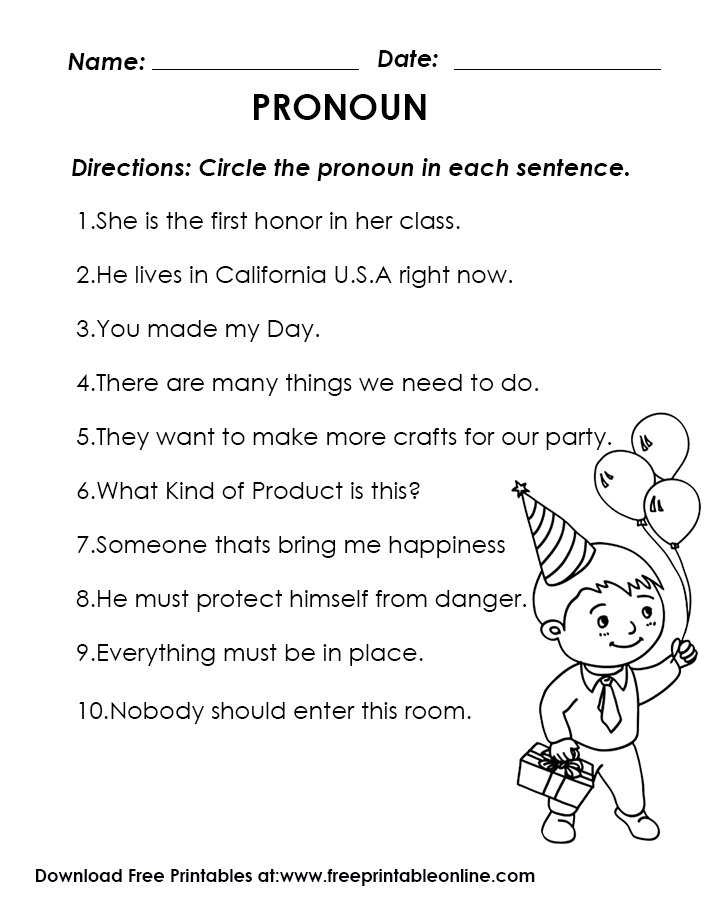 Aside from adjectives, 2nd graders also need to learn about pronouns and proper nouns.
If you want to teach your kids about these topics, we also have printable worksheets that can help you do it.
Each of these worksheets has 10 sentences. The goal is for the student to find the pronoun or noun, depending on which worksheet you print.
Once the students find it, they need to underline it.
Again, the key when it comes to this skill is repetition. Practice makes perfect, so print as many worksheets as you need!
Vocabulary Quiz Worksheet I and II
These worksheets help keep second graders on their toes and brush up on their vocabulary. Each one has nine words, and the student should arrange them in alphabetical order.
The vocabulary lists are at the top of the page, and the students will write the answers on the blank lines below.
Download All the Worksheets You Need
With these 2nd grade vocabulary worksheets, you can help kids develop their language skills early on.
Doing so will set them on the road to success, whether in school or in life.
Download and print as many as you want, and have as much fun teaching as the kids do learning!