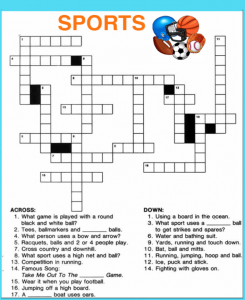 Get Free Crossword Puzzles, Sport Word Scramble and Word Searches for Kids
Do you have a child who loves to complete crossword puzzles?
At FreePrintableOnline.com, we have a nice assortment of free printable games for children of all ages.
Both crossword puzzles and word search puzzles are included in this category.
Unlike a video game that can cause your child to be overstimulated, crossword puzzles and word searches engage the mind in a different way.
These puzzles cause children to think creatively to solve problems.
These puzzles are also an excellent way to improve vocabulary skills.
Especially during the summer months and holidays when children are out of school and may not be too keen on completing actual coursework.
From simple to more complex, you'll find a great variety here to engage children no matter how old they are.
You're never too old to play a game, though, so try them yourself! You're sure to love them, too.

Free Printable Crosswords for Home or Classroom Use
Parents and teachers, take notice! Instead of offering your child or student boring, mind-numbing worksheets to complete to improve vocabulary, try one of our many free printable crossword puzzles.
There are many different options and themes such as Christmas and holidays, parts of the body, transportation, Disney Princess, animals, health and even color-themed crossword puzzles.
Give your child's brain a workout by having him complete one of these puzzles every day.
After a few weeks, you may be surprised at the number of additional words your child has learned.
All of these crosswords are in full, beautiful color, but can also be printed in black and white to preserve your color ink.
All you need to do is change the settings on your printer to black and white or gray-scale.

Sports Themed Free Printable Crossword Puzzles
For all the sports lovers out there, we have a crossword puzzle for you!
At FreePrintableOnline.com, you'll find our unique free printable sports crossword puzzle with colorful sports logos and 17 word options that are all related to sports.
Teachers and parents, before giving these puzzles to your child, remember to print yourself a copy to make an answer key.
The sports crossword puzzle is easy to complete, but there are tougher ones available, too, that your child may need to check the answers for.
This sports themed puzzle is especially appropriate now as soccer and baseball seasons have just ended and football has begun at most schools.
It's an easy, fun activity to warm up for the new school year.
It's also a great extracurricular activity for a physical education class to be used when a student may not feel up to engaging in physical activity.

More Free Printable Crossword Templates
Take a few of these crossword puzzles along the next time your child has a doctor's appointment or anything else where you expect long wait times.
The time will fly by so quickly that your child will hardly even notice the wait!
Related Puzzles and Activities: