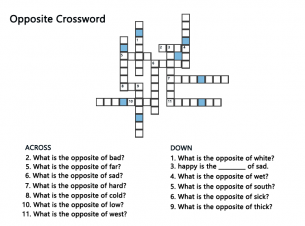 Crossword Puzzles and Word Searches
One of the best things about the Internet is that you have access to millions of free printable templates, giving you access to limitless fun and even coupon savings every day.
In addition, there are some free printable games that can make you smarter and increase your quality of life.
Did you know that word searches, puzzle games and crossword puzzles have numerous benefits for the mind, body and soul?
Did you know that you can practice with free crosswords daily, and change your life for the better within six months' time or less.
People that make a practice of working with crosswords online and various other puzzle games enjoy many benefits including vocabulary expansion, better conversation skills, and improved confidence and alertness.
Daily routines like this are also known to help thwart mental diseases like Alzheimer's as well.
By playing these fun and interesting games, you can improve your memory, improve your overall speed in every activity both physical and mental, improve your attention and improve your core cognitive functionality.
Free Sports Crossword Puzzles Here
The supplement market is ripe with herbal combinations that help you focus and think more clearly. Some of these products can cost from $20 to $50 a month.
When you start using a product like this regularly, you can become dependent on a product that could possibly be discontinued.
With free printable, this is an absolutely unnecessary expense. After a month of working these puzzles and games, you might notice a change so significant; you will wonder why you ever considered purchasing a focus supplement.
Related Posts: