Get Crafty with Free Printable Templates
Some people have the talent to draw anything they fancy. Many of us don't.
If, like me, you're one of the unfortunate few with little drawing ability, consider using our free printable templates right here at FreePrintableOnline.com.
You'll find them in our free printable activities section along with many other great, free activities that you can do with your children.
These activities are wonderful for keeping children busy on a rainy day or when the weather is just too cold to go out.
Depending on where you live, you'll have many of those days coming up, so go ahead and print out several activities now.
You'll be glad that you have them on hand when your children are begging for something fun to do.
After all, you don't want them spending hours in front of the television.
It's too stimulating for young children, and it's too easy to get caught up in for the older children.
Templates and Stencils for Crafts
Do you like to scrapbook? It's a wonderful way to preserve memories while also capturing the mood of a day, time or event.
There are many different tools for scrapbooking, but if you're on a budget, you may not be able to afford them.
You don't have to give up on the idea of scrapbooking, though. You can create your own tools using our free printable templates.
You'll find lots of templates and stencils such as palm trees, hummingbirds, dinosaurs, cowboys and much more.
Print these templates out on card stock for a sturdy base. Then, you can trace, paint or color using the template cutouts.
You can also trace the shapes onto construction paper or even wrapping paper for an adorable addon to your pictures.
Then, all you need is a bit of tape or glue and you're all set to design some amazing scrapbook pages.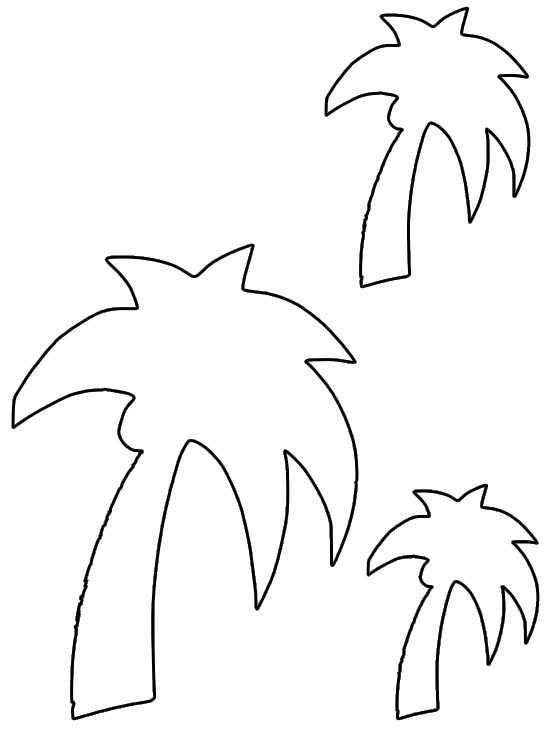 Palm Tree Template Free
If you want to bring a bit of the outdoors indoors, you can with our palm tree template free. It's perfect for those who are looking to add a beachy feel to their decor.
That's right, our templates can even be used in decorating your home. Just print them out per the instructions above.
Instead of painting the design onto paper, though, you'll be painting the palm trees onto the wall, on cabinets, on drawers, and other things around the house.
It's easier than you might think to transform an ordinary room or piece of furniture into an element that's fit for a tropical paradise.
To simplify things, you could paint the palm tree entirely green or another solid color of your choosing. You can also paint the tops green and the trunks brown. It's up to you.
For additional ideas for using our palm tree template, try painting the design on shirts, tote bags and other items.
They'd be perfect for taking on vacation to the beach next summer.
Until you can get to the beach yourself, these palm trees may be the closest you can get!
More: Large Selection of Animal Stencil Templates
Check Out Other Stencils
Some Other Related Template Articles