Free Printable Crafts with Elephant Templates
They say an elephant never forgets, but an elephant is pretty unforgettable, too.
It's a favorite animal for using in crafts or just for coloring, and we have plenty of elephant resources right here for you at FreePrintableOnline.com.
We're you're one stop shop when it comes to paper crafts, invitations, word games, cards and much more.
In our free printable crafts, you'll find lots of things to do, such as kids activities, making your own printable ruler, stencils and crafts.
There's plenty for everyone in your home.
Whether you need to keep the kids busy on a chilly fall day or you want an activity for the car to make a road trip more peaceful.
You'll find something interesting for your children to do right here.
Take a look around! Any of our printables can be customized with your child's name, date, picture or anything else you'd like to put on them.
Free Printable Stencils With Elephants
What is it about the elephant that we find so appealing?
For many, it's a symbol of remembrance.
Others just like elephants because these exotic animals are a rarity for us. We only see them in zoos, circuses and in captivity.
It's hard to imagine these majestic creatures in their natural habitat, roaming the land for food, water and companionship.
If you're teaching children about elephants either at home or in a classroom, you'll need visual aids to accompany your lessons.
Creative activities like coloring or using our free printable stencils work different parts of the brain, helping to reinforce other concepts that students need to memorize.
Cute Elephant Coloring Page
So, after your lecture on elephants, be sure to give your children or students plenty of hands on activities to let the material soak in.
When using our stencils, they are best printed on thick cardstock. But if you don't have any handy, consider printing them on regular paper.
Then gluing them to cardboard or poster board before using them as stencils.
---
---
Elephant Worksheets to Help You Get Crafty
Are you looking for a beautiful elephant template? Look at the one above!
It's a very realistic shaded figure of an elephant that you can use in your crafts at home or in the classroom.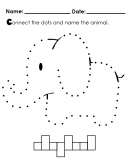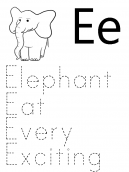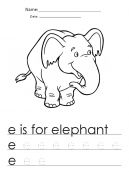 ---
Check Out Other Animal Stencils

There are many different ways you can use our stencils and templates.
Do you want to create book covers for three ring binders?
It's easy to do!
Select the template you like, use our customization tool (it's right beside the print button) and add your child's name and the subject of the notebook on the sheet.
There are several different font and color choices available to make your printout completely personalized.
Print right from the customization screen or save the file to your computer for reference later.
These shaded stencils can also be cut out and glued, taped, stapled or pinned to creative boards, walls, folders and many other things in the home or classroom.
Finally, if you just love elephants, cut out the black figure and pair it with a colored paper background.
Put it all in a nice frame, and you have the perfect elephant to hang up in your home. Easy peasy!
Some Other Related Template Articles