Free Printable Money Math Worksheets
Get your children to brush up on their mathematics while learning a practical skill like managing money.
Our fun variety of money worksheets, are easily available on our site for those who want to learn this valuable life lesson.
Here at Free Printable Online, you will find a large variety of money math worksheets.
Unlike the routine math drills that kids dread in school, our worksheets are exciting and make kids want to solve math problems.
Be it diving by a large numbers, solving a money equation or dealing with fractions, we have something for children of all ages.
Free Fun Money Math Worksheets for Kids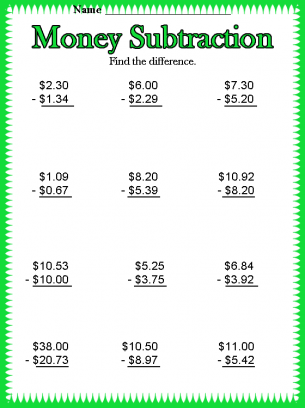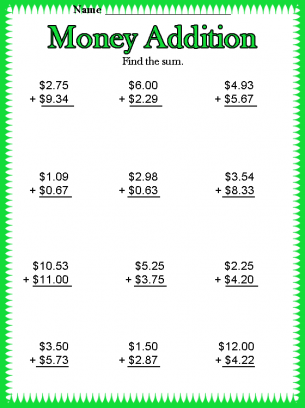 There comes a point in any child's life that the value and understanding of money or currency plays a vital role in society.
Rest assured that your kids will love these printable money worksheets that are geared to help them recognize the different denominations of money and learning how to add them.
Choose from a variety of worksheets geared towards getting children to be able to recognize the different basic coins (penny, nickel, dime and quarter).
Counting Change Money Math
Teaching children to count coins and notes is such a vital skill.
Kids need a good foundation when it comes to money.
Helping them learn this provides the groundwork for everything mathematics, while setting the ground work for handling money and finances in the future.
Involving the parents is a wonderful way to ensure your students get plenty of opportunities to practice the skills that you teach them.
Related Article: Learn Money By Counting Coins Worksheets
After doing these worksheets, kids will be able to recognize pennies, nickels, dimes, quarters and be able to count amounts of money with different coins.
It is essential that while teaching kids math, it is done in a way that makes it fun for them to learn.
Once children know the value of each coin and bill and they can identify them. It is time to work on the addition and subtraction of the money with math.
Money Math Worksheets – Learn Practical Subtraction
Teaching kids about money is important stuff!
It's also a great way to show the practical uses for mathematics.
Our learn about money worksheets are great for kids. Use the math subtraction worksheet to practice and keep those skills fresh in the mind.
Free Printable Money Math Subtraction Worksheets
With many math games and worksheets available online that require kids to solve problems to move ahead.
Here at FreePrintableOnline.com we have the perfect combination of fun and learning!
Use these money worksheets for math subtraction to keep your child's skills fresh and up to date.
These money subtraction worksheets are a good activity for your child to do at home or after school as extra curricular.
Free Integer Subtraction Money Math Worksheet
Say goodbye to low grades for the upcoming school year and beyond.
These free printable money math worksheets can be customized depending on the problem type, the coin and difficulty plus there are other options that can be added to the money worksheet so that it works best for the student.
This particular subtraction template has 9 problems. Solve them while having fun! Download and print today!
More Related: Free Printable Learn Money Worksheets
More Math Printable Worksheets
Simply download and print as many copies you need to get them started!

Get more lesson plans and worksheets