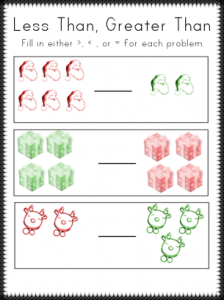 Holiday Math Worksheets
There are many different types of arts and crafts you can do to incorporate in with the education of young children. When you do this, you bring about the lessons of life in a whole new way.
When you're a teacher, you know the pinch of trying to educate your students with a limited amount of funding.
This is where free printable online comes in handy. You get free printable math worksheets for your students that also have that fun factor.
Children love to celebrate the festive season and now you can indulge them while at the same time making the most of every teaching opportunity.
Christmas addition & subtraction worksheets
Our worksheets are very popular and teachers love them because they add an additional way to get their students to enjoy learning.
Right now, our free Christmas math worksheets, Christmas addition worksheets, and Christmas subtraction worksheets are some of the most popular, plus there are sooo many to choose from.
Providing your students with a fun Christmas worksheet gives them a different type of learning sheet to help keep them from getting bored. When you add seasonal decorations to these fun sheets, they will be so excited.
With the fun designs and the inbuilt learning, that they will be willing and ready to engage in the schoolwork that's included.
More Christmas Math Worksheets
Fun designs always make a worksheet just that little bit better.  Now you can get yours for free when you use all of these valuable resources for your class.
Check out www.freeprintableonline.com to get all your free printable resources to make classroom fun just a little bit better.
Related articles you might also find interesting